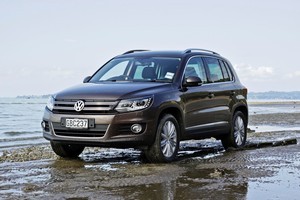 Maybe it's a case of beauty in the eye of the beholder, but I reckon the latest Volkswagen Tiguan is one of the most gorgeous-looking smaller SUVs of all time.
It was attractive before the studio was assigned to graft on Volkswagen's latest slim-line family face and now, cake iced, its lines flow enticingly and seamlessly from nose to tail, setting it apart from the mob.
But there's more to the small Volkswagen SUV than looks. Like a 21st-century beauty pageant winner, it's competent at all sorts of meaningful things and wants to help save the world with low CO2 emissions and good fuel economy.
All this for $53,250, or much more for those who can't resist ticking boxes on the options list.
However, there's no need to go nuts over extras, as the model that we get in New Zealand is well-equipped as it glides from the catwalk ... er ...
showroom.
The interior, designed with good ergonomics in mind, is generously roomy and quiet. Quality materials are used throughout; its suede-trimmed seats are sumptuous. Better yet, the seating arrangement is versatile and, seats folded out of the way, cargo capacity expands to a useful 1510 litres. The cargo area is fitted and finished better than the passenger cabin of some cars.
Tiguan has enough performance for family duties and for towing up to 2000kg, braked. The 2.0 turbodiesel - the same engine used in the previous model - musters plenty of torque, 320Nm from 1750rpm, and 103kW of power.
It's good for an 0-100km/h acceleration time of a little under 11 seconds, overall fuel consumption of seven litres per 100km and emits 185g/km of CO2.
Tiguan feels composed and confident in corners thanks to its 4Motion all-wheel-drive. There's none of the front-end grasping for grip when pushed that's often encountered on front-wheel drives. It steers accurately and body movement is well-controlled.
Despite the $2250 18-inch alloy rims and 235/50 tyres on the test sample (17s are standard and 19s with 40-series rubber are available), the Tiguan's capable suspension irons out most road-surface lumps.
Although most owners will probably never need to, or even want to try, this Volkswagen's a competent off-roader within the limits imposed by low ground clearance and modest approach and departure angles.
The 4Motion system is one of the best, but those underbody clearances rarely give it a chance to shine. Set it free on a beach, a soggy paddock or a steep and loose trail and watch it perform.
Why we miss out on hero engine
Working on the principle that more is better, it's a shame we don't have access to the more powerful 125kW engine with 400Nm of torque that's an option for European customers. The reason for this absence is because it's only available with a manual gearbox and the New Zealand market for Tiguan-type vehicles is heavily automatic. Our Tiguans have a six-speed tiptronic-type auto.
Your pilot speaking
Tiguan's equipped to get you through the urban jungle with its ParkPilot program that parallel parks at the touch of a button. The driver has to work the brakes and accelerator and the electronics do the rest. It works, too; never another kerbed alloy or grazed bumper. God bless technology.
Bottom line:
Luxurious appointments, gorgeous styling, and the Tiguan really will go off-road if you want it to.