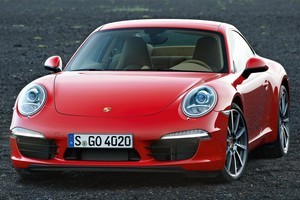 Porsche is expected to waste no time in bringing its new 911 soft-top to market as it embarks on making the range bigger and more diverse than ever.
It revealed the 911 coupe at the Frankfurt motor show and is likely to unveil the cabriolet at Geneva in March, a sooner-than-usual time frame between the two.
A thinly disguised prototype of the convertible has been photographed testing in Germany.
Although the lights are obscured by oversized stickers, it's clear that the cabriolet will feature the same bigger headlights, LED daytime running lights and thin tail lights as the coupe, as well as a longer wheelbase than the outgoing car.
The cabriolet will be a few kilograms heavier than the coupe, but will still be lighter than its predecessor by about 45kg, thanks to extensive use of aluminium in the body.
The roof will be built from fabric stretched over semi-rigid panels to keep weight to a minimum and boost insulation.
The entry-level model will feature a more efficient 3.4-litre flat-six engine, developing 15kW more power than previously, at 255kW.
The direct-injection 3.8 in the Carrera S gets 295kW. Performance will be better than ever - expect a 0-100km/h time in the region of 4.5sec for the standard car and 4.2sec for the S.
Porsche's model onslaught doesn't stop there, either. Following the cabriolet late next year will be the four-wheel-drive 911s.
The grippier versions will be available in coupe and cabriolet form, and use the same 3.4- and 3.8-litre engines.
The 911 Turbo is scheduled to arrive in 2013 and will also use all four wheels to deploy its power, plus a wider body.
Offered as both a coupe and cabriolet, the power output from its turbocharged 3.8-litre engine is reported to be well in excess of 373kW.
Beyond that, in late 2013 and early 2014 the first of the lighter, more focused models will arrive in the shape of the GT3.
A road-going hybrid 911 is also slated to arrive around this time, taking its inspiration from the 911 GT3 R Hybrid race car.