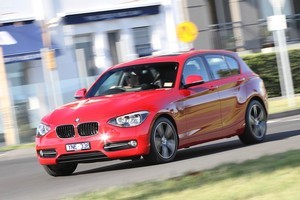 The introduction of four-cylinder turbocharged engines and an eight-speed automatic transmission brings significantly improved performance and fuel efficiency to BMW's second-generation 1 Series line-up.
The carmaker is launching three 1 Series models in New Zealand - the petrol 118i and diesel 118d next week, and the entry-level petrol 116i early in the new year.
All three come with the choice of a six-speed manual gearbox.
The range builds on the success of the first-generation's driving dynamics, combining the rewards of rear-wheel drive handling with improved comfort. Interior room has improved, too, especially in the boot.
The new model comes with a 6.5-inch free-standing flatscreen colour display, similar to its top competitor, the Audi A1. The 1 Series also has handsfree Bluetooth, auto start/stop function, keyless engine start and iDrive.
The 118 has a price increase of $1000 (from $54,500 to $55,500) over the previous model but is faster, has better fuel efficiency (5.9l/100km compared with 7.8l/100km) and carbon emissions of 137g/km compared with 182g/km.
The recommended retail price of the 116i manual, which has a new 1.6 litre four-cylinder turbocharged petrol engine, starts at $46,600.
The new 116i has the same power output of the previous entry model, the 118i, despite using 24 per cent less fuel (5.7 litres/100km).
But the 1 Series still can't compete with the packaging advantages of rival front-drive hatchbacks, especially in the rear seats where the driveshaft tunnel takes up room.
A test drive north of Melbourne of the 118d and 118i this week left a lasting impression. Both vehicles were especially refined, although not as accurate and appealing as the 3 Series range.
The diesel 118d makes 105kW and 320Nm and gets stop-start to aid fuel usage and cut CO2 emissions. It averaged 5.4 litres/100km over a mix of roads.
The 118i is even more refined but can't match the diesel's economy. In a nutshell, the new 1 Series ticks most boxes.