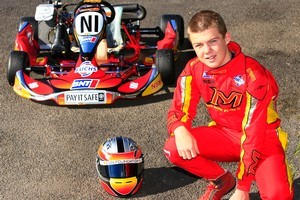 Nick Cassidy put on an impressive performance in Europe.
New Zealand has produced another motor-racing young gun who proved his worth when given a chance in Europe.
Nick Cassidy took the opportunity to show the movers and shakers in motorsport on the Continent just how good he is at a Formula Renault test held earlier this week in Spain.
Cassidy finished second to Mitch Evans in last season's Toyota Racing Series and won rookie of the year. As such, he was awarded the opportunity to join 44 other drivers for a test day at the Barcelona circuit.
Testing with so many other up-and-coming young drivers is a good indicator as to how much talent Cassidy has - and he wasn't backward about coming forward. In his first session, Cassidy slapped his cards down and pulled the second-fastest time out of the bag.
Russian driver Daniil Kvyat who, funnily enough, was one of the nine international drivers who raced in the 2011 International Toyota Series here in New Zealand, kept Cassidy out of the top spot.
Kvyat has since competed in the full European 2.0 Renault championship season and, at the last round at Barcelona on Sunday, he clinched third in the 2011 series.
"I was quite surprised, to be honest [at how quick I was]. When I first jumped in the car, I felt very comfortable, but the set-up didn't suit my style at all," Cassidy told Driven on his way to the airport to fly home.
"We were working with some old tyres just to get some balance."
You have to remember, though, that some of the other drivers at the test had been racing all weekend and so were well and truly in the groove, while Cassidy has covered very few race miles of late.
"The others had three or four sets of tyres they were using, while we didn't want to use our good ones up too early before the track got up to temperature and speed," said Cassidy. He was driving a car prepared by the British Fortec team and was running on older tyres for his fast run in the first session, saving his one allocated set of new tyres for the second session later in the day.
Unfortunately, things didn't pan out as planned for the 17-year-old. Through no fault of his own, a broken suspension upright punctured a tyre early in his second session and Cassidy was sidelined before he could take advantage of the new rubber.
"After the first run, I was pretty confident I could do the job later in the day and was feeling pretty good," he said.
"Unfortunately, the failure of the suspension at the start of the second session took me out for the day. But it didn't really matter because I proved in the first session that I had the pace.
"Considering it's my first time in this car and on this track, it's been a positive experience overall."
The Formula Renault car is different from the TRS machine Cassidy campaigned with with such success in his first year in New Zealand's premier open-wheel class. However, he took to it without too many problems.
"There are a few similarities to the TRS car but the Formula Renault is much heavier. It's got less horsepower but the TRS car is a lot twitchier.
"All in all, though, they're all pretty similar and that's what I've found with the different cars I've driven in Europe.
"The Formula Renault uses the same tyres, so that made it much easier."
Cassidy was also offered a two-race deal with Ma-con Motorsport, a German race team running in the ADAC Formel Master Championship, the support class to German F3. It is the same team Stanaway raced for, and won the championship with, last year.
During the past few weeks, Cassidy has experienced the German Formule Masters Championship at the Assen and the Italian Formula Masters series in Italy before testing in Barcelona last Monday.
It's now a matter of waiting for the phone to ring with an offer for him to head back to Europe. In the meantime, Cassidy has his eyes firmly fixed on the TRS championship being held over five consecutive weekends starting at Teretonga, January 12-15 and finishing at Manfeild on February 9-12.
"I've got 10 days of school to finish the year out and then it's flat-out getting ready for the upcoming races. I'm really keen to do the TRS series because it doesn't matter what you do afterwards, it makes you so sharp with the amount of race miles you do.
"It's not only good for your CV but also for driver experience and I want to make the most of that. And if I can do something in Europe on the back of that, it will be really good."
At this point in his career, Cassidy has done all he can to put his name out there and it would appear a few doors might be starting to open for him. Along with Evans, Stanaway, Brendon Hartley, Chris van der Drift and others, New Zealand has a very talented crop of young drivers plying their trade in Europe - let's hope Cassidy joins them soon.