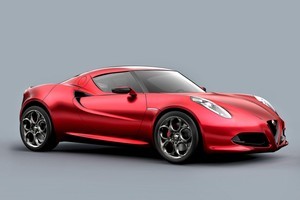 Alfa Romeo has announced a new turbocharged 1.8-litre engine boasting 224kW which, it's thought, will provide power for the new two-seater 4C sports car.
The Porsche Cayman-rivalling 4C was revealed in concept form at the Geneva and Frankfurt motor shows this year, and uses lightweight materials for a kerb weight of just 850kg.
The new engine will be built at Alfa Romeo's Pratola Serra plant in Italy, with production beginning in 2013. Alfa has announced that the 4C will begin production that year, too.
It's also likely that we'll see the 1.8-litre turbo in an upcoming SUV due for 2014, and a 159-replacing model available in sedan and wagon variants for the same year.
Alfa Romeo is also planning a rear-wheel-drive sedan based on the Chrysler 300C and, although it has announced it will get V6 power, the new 1.8-litre turbo is also likely to make it into the line-up.
The new engine will be clean enough to meet the strict new Euro 6 air-pollution regulations in Europe.
Joining the 1.4-litre 125kW MultiAir and the 1.7-litre 173kW TBi, small-capacity/high-output engines already used in the Alfa Romeo Giulietta, the Italian carmaker says it will launch a new 1.8-litre 224kW engine in early 2013 which will set new performance, economy and emissions standards.
Designed for both transverse and longitudinal applications, the new direct-injection four-cylinder engine will be compliant with future emissions standards in both Europe (Euro 6) and the United States (Tier 2 Bin 5), and will be used in both existing and future models.
Made entirely of aluminium, the engine will incorporate the most advanced technology; including a 200-bar petrol direct-injection system, dual variable timing and a high-efficiency turbocharger.
The aluminium architecture, combined with the most innovative technologies, will offer power-to-weight ratio, fuel efficiency, acoustic/NVH comfort and driving performance that are the best in its category.
"This is an extremely important step for Alfa Romeo, as we continue to reposition our brand and prepare it for global distribution. The US remains our primary objective," said Harald J Wester, Fiat's chief technology officer and head of the Alfa Romeo and Maserati brands.
"The dedication of group-wide resources to develop specific powertrain solutions for the specific needs of Alfa Romeo is a reflection of the renewed thrust we are placing on the development of this brand.
"This is a first step in a series of initiatives to be implemented in the near future, which will reconnect Alfa Romeo to its historical roots as a premium Italian sports car brand."