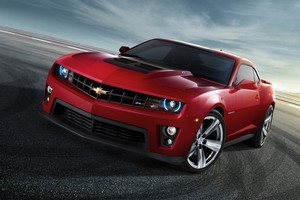 Chevrolet's supercharged Camaro flagship, the ZL1, has posted a blistering 7.41:27 lap of Germany's Nurburgring circuit, putting it in the company of speedsters such as the new Porsche Carrera S (7.40) and Lamborghini Murcielago LP670-4 SuperVeloce (7.42).
The ZL1 is a reworked version of the Camaro SS, which is based on the Holden-designed Zeta platform that also underpins the VE Commodore.
General Motors said 30 per cent of the Camaro SS was re-engineered to build the ZL1. The ZL1's time at the 20.8km Nurburgring circuit was almost 40 seconds faster than that of the Camaro SS.
Chief Camaro engineer Al Oppenheiser said for a car to succeed on the famed circuit, it must "do everything well - including acceleration, braking and lateral grip". The ZL1's lap time "validates that the Camaro ZL1 will truly be track-ready from the showroom", he added.
The ZL1 is named after a 1960s Camaro racing engine. It is powered by a 6.2-litre LSA V8, delivering 432kW of power and 754Nm of torque to the rear wheels through a beefed-up transmission.
It also gets uprated suspension including Magnetic Ride Control, a feature already used by HSV on its Commodore-based E-Series range.
In addition, the suspension system of the ZL1 gets repositioned rear stabiliser bars with drop links outboard of the control arms for less body roll.
To handle all the extra power and torque meted out by the force-fed engine, a stronger driveshaft, larger and stronger cast-iron differential housing, stronger axles and heavy-duty limited-slip differential are used, with the V8 exhaling through a bi-modal exhaust system similar to that used on the Holden Special Vehicles E3 Commodore.
Although a six-speed automatic transmission option will be offered, enthusiasts will opt for the uprated, high-torque, six-speed Tremec short-throw manual gearbox, which is combined with a dual-mass flywheel and twin-disc clutch that eases operation and shift smoothness.
Extra stopping power is provided by six-piston Brembo front brake callipers which clamp on to two-piece 370mm rotors, and four-piston callipers and 365mm discs out back.
The man behind the wheel at the Nurburgring was Camaro performance engineer Aaron Link, who says the circuit exploits the ZL1's full capability.
"One of the best moments is coming through 'Fuchsrohre', or Foxhole," he said. "The ZL1 accelerates at an unbelievable rate down through the tunnel of trees and into a sweeping left-hand corner flat out in fifth gear.
"You have to have an extremely well-mannered, confidence-inspiring car to take any corner at 160mph [257km/h] without lifting off the throttle - and the ZL1 was just brilliant."
Australian website GoAuto reports that while HSV has made no commitment to - nor ruled out - using the supercharged LSA engine, itself a version of the 6.2-litre LS2 used in HSV products, much of the engineering work required to transplant the drivetrain into a Zeta chassis will already have been done on the ZL1.
Electric power steering - usually employed as a nod towards reducing emissions - reduces mechanical drag on the engine, which copes with the extra strain of supercharging with the use of premium heat-resistant aluminum-alloy cylinder heads, a lightweight reciprocating assembly, high-strength pistons and piston oil squirters.
The engine, transmission and rear differential all have their own oil coolers and the ZL1's design includes brake-cooling ducts plus a high-performance fuel system designed to maintain flow under "any performance-driving condition".
Externally, the ZL1 will be available in all the standard Camaro colours but identified by a new front fascia and bonnet, featuring matt-black carbon-fibre air extractors designed to generate downforce.
New 20-inch wheels with ZL1-specific Goodyear rubber are complemented by redesigned exhaust tips with ZL1 badging.
The black-only interior gets microfibre inserts for the front seats, a redesigned steering wheel, alloy pedals, head-up display with performance readouts and a four-dial auxiliary gauge system that includes supercharger boost readout.
Meanwhile, HSV has released details of a new, 20-inch forged wheel to be available on its E3 range.
The new SV wheel comes in a "dark stainless" finish and features the premium "SV" logo etched into the wheel spoke.
It first appeared on the recently launched SV Black Edition models, where the wheel is standard but in a gloss black finish.
HSV sales manager Darren Bowler said: "We have had great feedback on the forged wheel.
"Customers are going to love the look and they also get the benefits of 20kg of weight saving across the vehicle due to its forged nature."
The SV wheel will be a $3190 option on all HSV models except GTS, where it will be a no-cost option.