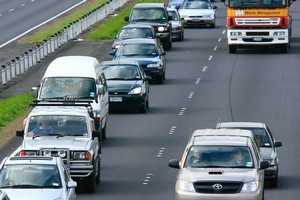 New-car sales fell 9.7 per cent last month, a drop that caught the motor industry by surprise.
New Zealand's August sales were buoyant and forecasters were picking a healthy September market as Japan continued to ramp up production after the March earthquake and tsunami.
Industry analysts point to the Rugby World Cup as slowing buyer interest.
"I don't know if that's the reason but it possibly could be," said Motor Industry Association chief executive Perry Kerr.
He said that despite supply constraints and the slower September the overall market was still ahead on a year-on-year basis.
Passenger cars are so far running 4 per cent up on 2010 and commercial vehicles are up 16.5 per cent.
"The industry has had a bumpy ride but has managed to meet market demands," said Kerr. "There is still some catch-up in the market so hopefully sales will remain positive for the last quarter of the year."
September new-car sales were down 614 on the same month last year, while commercial numbers were 298 up on September 2010.
Toyota took out top spot last month in the passenger car segment with 990 registrations, giving it just under 17.5 per cent market share.
Holden was in second spot with 578 registrations (10.2 per cent) followed by Hyundai with 493 (8.7pc).
Toyota continued its domination of the commercial market with 553 sales, while Mitsubishi recorded 215 and Holden 177.
Supplies of Toyota Corolla have obviously resumed after 367 registrations in September, putting it back in front of the passenger car segment so far this year with 2456 registrations.
The Mazda3 was the second best-selling car model (227) and the Suzuki Swift third with 199 registrations.
Toyota took out the top two spots in the commercial segment, with the Hilux remaining the top-selling vehicle with 300 registrations, followed by the Hiace with 211.
In third place was the Holden Colorado with 163 registrations.