U want 2 buy a car? Try Facebook and Twitter, as car companies turn to social media to target customers, says Liz Dobson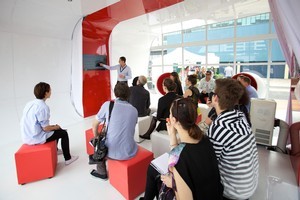 They are rivals on the racetrack and their owners are famously staunch - you're either a Commodore or Falcon driver for life - and now Ford and Holden are toughing it out in cyberspace.
On Facebook the two motoring giants have more fans each than most of the other New Zealand-based car companies combined.
In pole position is Holden New Zealand with 26,879 fans, while Ford claims second spot with 16,133. Third is Hyundai New Zealand with 10,226, while Kia Motors NZ has one fan (me).
But for most car companies around the world, it's not about how many Facebook fans or Twitter followers they have. Instead, social media is now a standard marketing tool.
In the past, if motoring companies wanted customers to know about new products, they placed ads or relied on publications such as Driven to run stories.
Now, a tweet, a Facebook status update or a clip on YouTube lets owners and fans know what is happening.
Facebook-dominating Holden NZ saw the potential for social media to enhance communications with its fans and last year became more proactive.
The first integrated campaign that the company ran was the "Single Tank Challenge" in February last year, aimed at raising awareness of the fuel efficiency of the new SIDI Commodore.
"The promotion was based on a Facebook competition to find a fan who would drive a new Commodore sedan the length of the country to see how far they could go on a single tank of fuel," says Holden NZ's corporate affairs manager, Neil Waka.
"We put a cameraman on the road to capture footage of the challenge, and regular updates were posted on Facebook and Twitter over the 24-hour drive from Auckland to Christchurch."
Within 24 hours of the campaign start, Holden's number of Facebook friends increased from 900 to 6300.
Following on from that success, Holden last month started the "Meaner Barina" promotion as a teaser campaign to the launch of the 2012 Barina hatchback.
People could upload a photo on Facebook of them looking "meaner than the Barina". Six finalists were selected, and Facebook fans voted on their favourite, who won the one-of-a-kind Barina show car from the Australian International Motor Show.
"The campaign drove a significant uplift in Holden's Facebook fans, with more than 7500 'likes' in a four-week period," says Waka.
"And it raised awareness about the impending arrival of the new Barina."
Ford New Zealand also recently turned to social media for the launch of a new product, the Fiesta AB35 (an All Blacks-based car).
"We did use traditional television advertising initially," said Ford New Zealand's communications manager, Tom Clancy.
"That was to drive people to the AB35 website and the Ford New Zealand Facebook page, where people could sign up to play a 'parts pursuit' game."
The game was an online scavenger hunt to win a 12-month lease of a new Fiesta.
"The response was fantastic," said Clancy. "We had a large online crowd of contestants scouring the internet for clues and sharing clues with each other via our Facebook page. As they did, our Facebook page grew to have more than 15,000 'likes'."
Ford USA uses multiple social media channels for both mainstream campaigns and slightly edgy humorous campaigns like "Doug - Ford's Spokespuppet", who is a hit on YouTube, Facebook and Twitter.
Audi NZ also used social media to promote its the sporty A1 hatchback.
The company built ArenA1 - a mini racetrack and showroom - near Auckland's Victoria Park market late last year and opened it to the public, giving people a chance to experience hot laps by professional racing car drivers.
"A dedicated Audi A1 social media community was established [on Facebook and Twitter] in the lead-up to the launch of ArenA1 to provide a platform to communicate with Audi A1 fans leading up to, during, and beyond the activation," says Audi NZ's head of marketing, Fiona Woolley.
"Despite a limited time frame, we got a great response and engagement on social media.
"The visually exciting content surrounding ArenA1 allowed us to create a small but highly engaged social media community via Facebook and Twitter, with members posting, sharing and viewing content about the Audi A1 and ArenA1 more than 6000 times a day during the three-day activation period."
Audi of NZ's Facebook page has 229 fans, but the dominating European brand in social media is BMW NZ, with 7219 fans.
BMW set up a local Facebook site more than two years ago and since then it has experienced remarkable growth, with an increase of 42 per cent this year - from 5087 people in January to 7216 at the end of September.
"We use social media, specifically our Facebook site, as an additional communication tool to engage with BMW enthusiasts," said corporate communications manager Edward Finn.
"It's a rare opportunity for two-way dialogue between BMW fans and also a chance for them to interact with each other."
BMW NZ content is a mix of local and international material and includes news and updates as well as behind-the-scenes information and information about new products.
This week, the company used social media to promote the press launch of the new 6-Series Coupe, and it also uses Facebook to run events and promotions.
"For example, we recently ran a promotion via Facebook for one of our fans to win a trip to Australia to drive the new 1M Coupe at a racetrack in Melbourne," says Finn.
"We also held viewing opportunities for BMW NZ Facebook fans to attend the Vision EfficientDynamics event outside of normal public viewing hours and plan to continue using Facebook as a way to communicate with our fans."
And for most New Zealand car companies, social media sites such as Facebook are becoming an influential tool when it comes to communicating with savvy buyers.
"In general, people have become less trusting of corporates around the world, and with the rise of social media, the connected conversations people have with each other in social media are an increasingly important resource of information and opinion," says Ford NZ's Clancy.
"They are the same word-of-mouth opinions and views you would have around the barbecue with a few friends, but can now be shared with thousands of people at the click of a mouse.
"Social media let people do the talking and share those views, and also let Ford be part of the conversation."
Holden NZ also regards social media as an integral part of communicating with buyers.
"It enables engagement with customers and potential customers in an accessible medium, and in a style that is more relaxed and conversational than traditional communication channels," says Waka.
"Done well, it is far more powerful to have others speaking highly of your products and service than it is to blow your own trumpet. Though of course this does mean you must be true to your brand and that's something we work hard to do."
For companies such as Hyundai New Zealand, social media are also used as a chance to promote organisations that it sponsors, in particular the Spirit of New Zealand.
The company recently used Facebook to find Kiwis who had sailed on the famous teaching ship after records of past students were lost.
And while Facebook is the favoured of the social media sites, some car companies are also pushing their product through Twitter.
Audi New Zealand uses this medium via its ambassadors such as MasterChef judge Simon Gault, who tweets about his experiences in his Audi S5 coupe.
But no matter what form it takes, expect to see more of our car companies heading to cyberspace to court customers.
Popularity poll
Some car companies are clearly dominating Facebook while others are in desperate need of "friends". Here are Facebook NZ's top-ranked motoring pages, according to "likes", as of last Wednesday:
1. Holden NZ 26,879
2. Ford NZ 16,135
3. Hyundai 10,226
4. BMW NZ 7216
5. MINI NZ 4255
6. Toyota NZ 3459
7. Audi of NZ 229
8. Honda NZ 166
9. Peugeot NZ 141
10. Suzuki NZ 104
11. Jeep NZ 14
12. Kia Motors NZ 1
13. Mercedes-Benz NZ 1
World's favourite
When it comes to Facebook international, there is one clear winner.
1. BMW 6,539,830 fans
2. Ferrari 5,113,630 fans
3. Mercedes-Benz 4,015,010 fans
4. Audi USA 3,833,115 fans