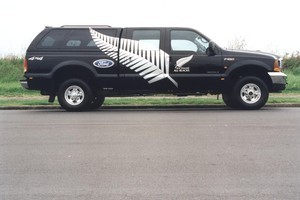 Ford is teaming with a Canadian company to offer a high-performance, dual-fuel version of the F-250 and F-350 Super Duty pick-up trucks, the more powerful version of the F-250 pictured here.
The dual-fuel Westport WiNG power system runs on natural gas or regular petrol and is built by Westport Innovations, a Vancouver maker of natural gas engines.
The WiNG system is an advanced, integrated dual-fuel system targeting fleet customers, Westport says.
The dual-fuel F-250 and F-350 pick-ups are equipped with Ford's 6.2-litre V8 engine. Gerry Koss, fleet marketing manager for Ford, told United States Automotive News the fuel system would add about US$315 ($413) to the price of Super Duty pick-ups with a 6.2-litre petrol engine.
Ford has offered a separate, dedicated natural gas engine option on Super Duty trucks in the US for about six months.
The carmaker began pairing with outside specialists in 2008 to offer natural gas-powered vehicles.
The first model marketed was the E-series van, followed by the Transit Connect van.
"We're seeing strong customer interest across the spectrum from fleets of all shapes and sizes for a factory-validated product, as more and more owners understand the economic and operational benefits of a cleaner fuel sourced in the US," said Ian Scott, president of Westport's light duty division.
Natural gas in North America typically costs up to 50 per cent less than diesel fuel on a per-gallon basis.
In addition, the Ford F-250 and F-350 pick-ups with the optional dual-fuel system underwent the same manufacturing tests for safety and durability as other Ford products, Westport said.
The WiNG systems are engineered at Westport's technical facility in suburban Detroit. They will be installed in the Super Duty trucks and shipped to Ford dealers in the second quarter of 2012.
They are designed to meet 2012 emissions standards set by the Environmental Protection Agency and California Air Resources Board.