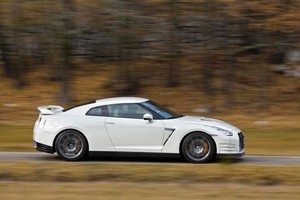 Considerably more power is one of the improvements Nissan is making to its next-generation GT-R supercar, say reports in Germany. Thanks to new engine mapping and a revised intake and exhaust, the 2013 Nissan GT-R may produce as much as 425kW or 30kW more than the current variant. The transmission and suspension mapping will also receive minor adjustments. Underneath, the vehicle will likely sport new aero tweaks for better cooling and efficiency, and the reports suggest the 2013 model will be even cleaner emissions-wise.
Toyota's distracting touch screen
Safety experts have criticised Toyota's latest Yaris, the first car in Britain to enable motorists to send texts while moving. Rival set-ups allow owners to reply to messages with preset responses, such as "Driving now, will reply later". But the Yaris goes further, letting users type and send messages via the Touch & Go multimedia screen. This will grace other Toyotas as they're replaced.
The system is legal, as mobile phone laws relate only to hand-held devices. British Automobile Association road safety chief Andrew Howard said it could be a distraction: "People will feel pressured to reply to texts and not watch the road."
A Toyota spokesman defended the system: "The user has to be responsible for their actions," he said, claiming it was "arguably more dangerous" for drivers to text using a mobile on their lap.
Actor's view of fast machines
Boston Legal actor Lake Bell is writing the automotive column for the Hollywood Reporter - just to keep busy. Her latest movie, A Good Old Fashioned Orgy, just hit theatres in the US, she's set to appear in the upcoming second season of HBO's How to Make It in America, and she's just finished filming Black Rock. She's even directed her own short film, Worst Enemy, which first screened at Robert Redford's Sundance festival this year. Bell credits her father - who owns a couple of race tracks - for her love of cars. She has already reviewed the Maserati GranTurismo, Porsche Panamera 4S, Jaguar XKR and Cadillac CTS-V Coupe.
Oldest running car may fetch $3m
The world's oldest running car is up for auction. The 1884 De Dion Bouton Et Trapardoux Dos-A-Dos Steam Runabout has been owned by the same British family for the past 81 years and has had only four owners in 127 years.
With a top speed of 60km/h and a range of 32km on a single tank of water, the steam-powered tricycle has made the annual trek from London to Brighton four times. RM Auctions expects the De Dion to fetch up to US$2.5 million ($3.1 million).
Lotus back in rallying
Lotus is going back to rallying - 30 years after its last World Rally Championship group win in the Talbot Sunbeam. It will enter its 3.5-litre V6-engined Exige R-GT in the newly formed GT category. Group Lotus director of motorsport Claudio Berro says the move has a special meaning: "My motorsport career started in rally. I even took part in the Talbot Sunbeam Lotus' Italian Rally championship, winning a race in San Marino back in 1981, so this is a very nostalgic moment for me."
Berro says the Exige R-GT is a dream come true for those who are passionate about GT racing. "The beauty of the Exige R-GT is that although it's a professionally set up race car, you don't need to be a pro to drive it - the race car has been developed alongside the road car, allowing the technical team to create the perfect race machine, high-performance but without losing the sense of fun and ease of use."
Hear me roar: BMW sound design
BMW is using a system called "Active Sound Design" on its new M5, due in New Zealand next year. It takes in engine speed and load data from the engine computer and plumbs it through the stereo to play a real-time recording of the M5's engine. BMW claims the sound has been optimised to spread across the cabin. Not only that, but when the higher-performance Sport or Sport+ modes are engaged, the sound inside the M5 is enhanced and sequenced with induction, engine and exhaust noises. The carmaker is also working on some serious stoppers for the M5. A report in Germany claims board member Dr Herbert Diess has confirmed that the company is testing carbon ceramic discs for the M5 and upcoming M6, but that the hardware is at least another year out from production.
Tweaked Land Rover for Dakar Rally
The Land Rover Evoque will participate in the next Dakar Rally, albeit with a few modifications. The British Excite Rally Raid team is planning to take three cars shelled in the body of an Evoque. Under the hood, however, the T3 racers will make use of BMW straight-six power. The 3-litre turbodiesel engine is good for 205KW and 640Nm of torque, with a ZF six-speed gearbox handling the shifting duties. Each machine will be built by RaBe Race Cars, which has a long history of churning out Dakar-ready hardware for other teams. All three Evoque bruisers will be campaigned by a British crew. The 2012 Dakar Rally Raid kicks off on January 1.