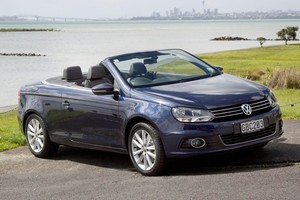 Talk about driving into a weather bomb! Volkswagen couldn't have chosen a wilder week to leave its newest Eos cabriolet in Driven's driveway.
We had gales, sleet, hail, and rain that seemed like it was shot from a high-pressure hose.
If this was typical spring weather, as some meteorologists were saying, then it was both turbocharged and intercooled. What a crazy time to go driving in a convertible. Or not; if it could impress in these conditions, it should be able to impress anywhere, any time.
Not only did the Volkswagen shine during its trial by downpour, it cosseted its occupants through the worst bits; climate-control aircon gently puffing warm air under the weathertight steel hardtop that, when conditions allow, vanishes at the pull of a lever to somewhere in the boot area.
This takes less than half a minute of gentle electro-hydraulic purring and whirring.
Driven's wicked-weather car is one of the first of the "freshened" $59,500 Eos to reach this part of the world. Its smoother, sleeker bodylines are easy to spot.
These link it to the predecessor, but do away with clunkier aspects of the original, whose proportions were dictated by the need to stow the hardtop somewhere. This is still a requirement, of course, but the new lines make it less obvious.
Left intact in the redecorating are the cabin's quality finish and good appointments. It's reasonably spacious, even marginally so for rear-seat passengers. Boot capacity is limited, especially with the roof folded, but that's a compromise common to coupe-convertibles (CCs).
Unfortunately, the well-fettled interior is rather sterile.
A rival, the Peugeot 308 CC, has an interior that makes you feel like you're having a good time; the Eos's seems to frown glumly.
Not to worry, though; Eos is fun to drive and makes a good cruiser, but keep rough-road travel to a minimum as bumps and undulations send quivers through the body, inducing scuttle shake.
Handling on winding roads is adequate rather than outstanding; despite its looks the Eos is not quite a sports car.
New Zealand gets the 2.0-litre 155kW turbocharged direct-injection (TSI) engine and six-speed DSG automatic transmission. Worldwide, four engines are available, including a diesel.
Our combo offers spirited, smooth performance and does the 0-100km dash in a little under eight seconds.
A strong point is peak torque of 280N produced at 1700rpm - the kind of revs usually associated with diesels.
Overall fuel consumption is 7.5 litres per 100km.
Roof shout
Space-saving design being a prerequisite, Eos's party trick is the roof, made up of five sections. Volkswagen says it folds into a smaller space than rivals with two roof sections. And get this: the roof also has an opening glass sunroof for when you don't want Eos to strip to its waist.
The bottom line:
Latest Eos continues to offer convenient and stylish open-top motoring.
Alternatives:
Peugeot 308 CC: $55,990, $5000 more with leather
Renault Megane CC: $54,990
Fiat 500C: The same sort of idea, but uses a fabric roof; $37,990, $3000 more with leather