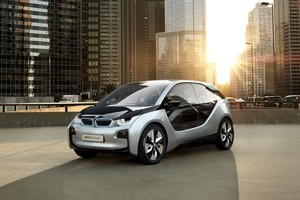 Over the weekend, Frankfurt's vast exhibition centre was crowded as thousands of car fans struggled to navigate the city's biennial motor show. I'm not sure anyone actually enjoys Frankfurt - Geneva is the show that everyone looks forward to - but no motor industry journo or executive of any account would dare miss it. Some of the most powerful car-makers on the planet are German, and Frankfurt is their home event.
But there's one area where the German manufacturers, for all their technical prowess, have a bit of catching up to do; for years, they concentrated their efforts on improving the efficiency of their petrol and diesel engines while their Japanese competitors established a big lead in electric and hybrid cars.
Now, though, the Germans are trying to put that right with a huge development push that is just starting to bear fruit.
Perhaps the best example of the trend is one of this year's Frankfurt stars, BMW's electric i3, which won't go on sale until 2013.
That's a two-year lag compared with Nissan's Leaf, the first purpose-designed, mass-production electric car, but while the Leaf is in many respects still a fairly conventional design, the i3 will offer radical solutions to the problems of weight and range in electric vehicles.
There will be extensive use of carbon fibre and recycled aluminium, and decades after most cars ditched their separate chassis in favour of stiffer all-in-one bodies, the i3 will have two distinct structural elements, the Life and Drive modules, the first designed to accommodate the car's passengers, the second, its drivetrain.
At the moment, nobody knows whether pure battery-electric cars will win out over hybrids, which combine electric power with a petrol or diesel power, so BMW is wisely hedging its bets by offering the i3 with an optional 'range extender' petrol engine.
Incidentally, if you're worried that the i3, a small urban runabout, won't offer the sort of sporty drive you'd normally expect from a BMW, I can put your mind at rest.
Most discussion of electric cars has so far concentrated on questions of economy and environmental impact; that's meant that their smooth and powerful acceleration, which may eventually turn out to be their strongest selling point, still isn't really appreciated by mainstream buyers.
The i3 will, in any case, have a bigger, faster sister that shares most of its advanced technology, the i8 - and that's a low-slung performance car that looks like a proper BMW.
Price: TBC
Top speed: 150km/h; 0-100km/h 7.9 seconds
Electric range: up to 160km
Battery charge time: 6 hours
Best for: patient environmentalists
Also considering: Mitsubishi i-MiEV, Nissan Leaf, Smart Fortwo electric drive
- THE INDEPENDENT