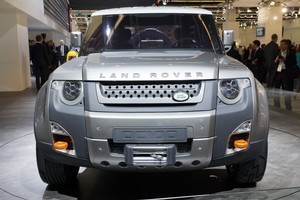 Land Rover's DC100, including a convertible version, puts more of an emphasis on off-road capability.
Land Rover chief John Edwards says "vehicle capability" will be at the core of the appeal of the new Land Rover DC100 when it goes on sale in 2015.
Edwards says he is targeting a price in Britain of about 20,000 to 25,000 pounds ($38,000 to $47,500).
"While our Range Rover family is about luxury and the strength of its image, the Defender family - and we do plan a family of vehicles - will be much more about function."
The off-road specialist showed off a commercial version of the DC100 at Frankfurt, along with a lifestyle model, the DC100 Sport.
Land Rover's first overseas sale for the 1948 original was to the Swiss Red Cross. Says Edwards: "Will the Red Cross be interested in buying a Range Rover? I don't think so, but I do believe we need to make sure the DC100 is relevant to them."
Pricing the DC100 aggressively could also deliver an extra opportunity for Land Rover.
"The SUV market is growing rapidly, and there is a whole segment of cars in the under 20,000-pound segment that we don't touch. This has got to be an opportunity for us."
Design director Gerry McGovern says: "At its core, the DC100 must be about capability, but cars like the Range Rover Evoque prove that design can also lead. The design must be in harmony with function.
"This isn't a production-ready concept but the beginning of a four-year journey to design a relevant Defender for the 21st century. Replacing the iconic Defender is one of the biggest challenges in the automotive design world - it is a car that inspires people worldwide."
Trademark Defender styling cues such as the door mirrors and floating roof will be allied with off-road extras like a winch, sump guards and heavy-duty tow hooks.
Headlights inspired by the Range Rover Evoque add a dash of upmarket style, as do the raised bonnet line and aggressive alloys. In profile, the block-like shape is combined with sharp creases in the body. Angular glass all-round creates a rugged, wedge-like shape. Under the skin, the DC100 is expected to feature an updated version of the Discovery 4 platform.
Power is likely to come from a range of new four-cylinder petrol and diesel engines, all developed at Land Rover.
No details on interior design have been disclosed, but the latest satellite navigation and communication systems are expected to feature. This will be a world apart from the agricultural design of the existing model.
Edwards says the company is "determined that the new Defender will be true to its heritage, while meeting the requirements of a changing global market. "It's going to be an exciting journey."
Land Rover DC100 and DC100 Sport offer:
Terrain-i scanning device to warn of obstacles when off-road.
Wade Aid sonar technology to assess water depth and advise optimum speed.
Driver-activated spiked tyre system, deployed at the touch of a button.
Permanent four-wheel drive.
Eight-speed transmission.
Intelligent stop/start.
Petrol and diesel engines with hybrid and plug-in capabilities.
Always-on connectivity and telematics.
Built-in induction charging stations throughout both concepts.