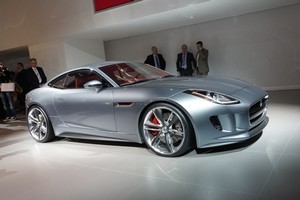 First two-seater since the E-type could challenge Porsche - if it goes to production.
The arrival of the new Jaguar C-X16 will allow the new XK range to grow and cement its position as the British carmaker's range-topping model.
That's the buzz around the Frankfurt Motor Show after the official unveiling of the driver-focused two-seat sports car.
British magazine Auto Express quotes a Jaguar insider, who said: "The C-X16 will be very focused in the way it drives.
"Of course, it will offer the everyday useability that Jaguars are famous for, but it will also be a true driver's car, and we expect to take sales away from the Porsche Cayman and the 911.
"That will allow the XK to change its role slightly. Since it was launched, the XK has tried to be all things to all men - it's tried to be a sports car and a grand tourer and sometimes it hasn't quite pulled that off."
The XK has only recently been facelifted and is still at least two years away from being replaced. But expect Jaguar to answer the criticisms of the current car by making it slightly larger in order to offer a true four-seater layout - as with the Maserati GranTurismo.
With improvements in weight distribution and an even stiffer aluminium structure, it'll be even better to drive. But it will have more focus on luxury and grand touring ability.
Couple that to advances in powertrains, with new, more powerful V8 and even V6 engines, plus an eight-speed automatic gearbox, and the new XK will be faster yet more efficient.
The production version of the C-X16 is expected to cost between £60-£80,000 ($115,000-$155,000). But Jaguar wouldn't confirm that it would be built, saying only that it was a "production concept".
Jaguar brand director, Adrian Hallmark, said:
"This is a long-term play for the business. We are not launching it today, we are asking for potential customers to give us their feedback.
"Everything you see before you is technically feasible. In fact, the only part of this concept that wouldn't currently meet legislation for the road is the seat structures ...
"Everything else, from the wheels to the roof, meets all the requirements to be put into production."
Named C-X16 to honour the fact that this is the 16th Jaguar project to be led by design chief Ian Callum, the car gets aluminium bodywork and carbon-fibre detailing.
Speaking at the unveiling, Callum said: "This is our first two-seat sports car since ... well, you know what," he continued, referencing the historic E-Type, which celebrates its 50th anniversary this year.
Jaguar's plans for the C-X16 are said to be extremely detailed. Under the bonnet, there's a petrol electric hybrid engine.
Most of the power comes from a 3-litre supercharged V6 producing 280kW and 450Nm of torque.
This engine is all new, and has been developed using the architecture of the 5-litre V8 already found in the XFR, XKR and XJ,
To help improve fuel consumption, and cut emissions, it also features direct-injection and a twin-vortex supercharger, both of which are also said to improve throttle response.
The hybrid's electric motor produces a useful 70kW and 235Nm of torque, and is bolted directly on to the eight-speed ZF automatic gearbox. It draws power from a lightweight lithium-ion battery mounted behind the seats.
The electric motor's star turn is to provide an extra slug of power when a button is pressed on the steering wheel.
The system, dubbed "push to pass", is inspired by the Kinetic Energy Recovery System (KERS) fitted to Formula One racing cars and stores enough energy for a 10-second burst of extra power.
But the hybrid's job doesn't end there.
The system also improves fuel economy, and around town will even propel the car in an electric-only mode at speeds of up to 50km/h.
Jaguar's official figures are 0-100km/h in 4.4 seconds and a top speed limited to 300km/h. Yet town-and-around fuel consumption is quoted at 6.8 litres/100km (41mpg), while the car claims 165gr/km CO2 emissions - numbers helped by the inclusion of the stop-start system seen on the XF 2.2D.