After three decades of GTIs, VW hatches another surprise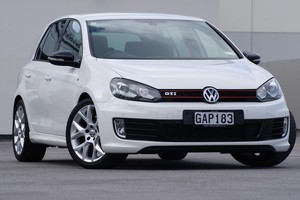 Back in 1976, Volkswagen planned to build only 5000 examples of a new concept in small cars it called the Golf GTI - a version of its humble family hatchback with lots of power and sporty suspension. Six generations of Golf later, we're celebrating 35 years and nearly two million of VW's hot hatches. Once again, the German maker is building 5000 examples of a very special vehicle - this time a limited-run Golf GTI it calls the Edition 35.
None of which is terribly relevant because, although it's tempting to think of the Edition 35 as a dressed-up GTI, it actually has more in common with the performance flagship Golf R.
Such as its engine. For the Edition 35, VW has taken the R's 199kW/300Nm motor, turned down the turbo boost and let the new car run with 173kW/300Nm - useful increases over the standard model and enough for 0-100km/h in 6.6 seconds.
The most obvious difference over the regular GTI is the hard-edged soundtrack and more insistent power delivery as the revs rise.
Driving through a six-speed dual-clutch gearbox, this feels like a fast and furious machine - less sophisticated than the standard GTI but still a finely honed package.
But the Edition 35 does carry over the GTI's XDS electronic traction-control system, which keeps both driven wheels working at full power under cornering duress.
Styling is subtle, but the Edition 35 can't be mistaken for a regular GTI. Maybe for a Golf R, though: the front bumper is new, the bi-xenon headlights have searing LED running lights, the rear light lenses are blacked out, the side mirrors are black and the 18-inch alloys are a unique design.
Inside, the front seats are a heavily bolstered sports design and the gear lever pays homage to the GTI's cheeky past with a golf ball shape.
With all of the dynamic appeal of the GTI and the more muscular power delivery of the R, the Edition 35 stakes a claim for being the best interpretation yet of the Golf VI.
It shows that VW is still capable of a little surprise and delight in its hot hatches - even after three-and-a-half decades. At $65,000 and with only 60 allocated to New Zealand, this special edition is well worth the extra $6500 being asked over the standard GTI.
Unlike 35 years ago, there won't be any more of this particular model when they're all sold. That's the bad news. The good news is that the GTI's 40th will be here before you know it.
The bottom line:
Limited Edition 35 model feels surprisingly different from the regular GTI. It's arguably the most engaging model in the current Golf range.
Alternatives
Alfa Romeo Giulietta QV: $54,990
Audi S3 Sportback : $83,700
Renault Megane RS250 Cup Trophee: $58,990
Volkswagen Golf R: $73,500
Volvo C30 T5 R-Design: $57,990