Kia's latest arrival steps up in style, writes Alastair Sloane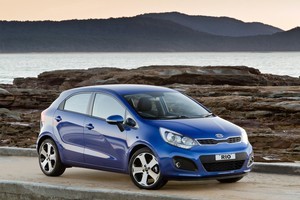 Todd McDonald reckons the market for B-segment small cars will grow in New Zealand this year by 37 per cent.
"I have studied the segment model-by-model and I believe such growth is not unrealistic," said McDonald, the general manager of Kia Motors NZ.
"That's my analysis, my opinion. Others will have their own opinion."
Kia's latest arrival, the five-door Rio hatchback, falls into the B-segment, up against the country's best-selling car so far in 2011, the Suzuki Swift.
Other rivals include the Mazda2, Ford Fiesta, Toyota Yaris, Hyundai Getz, Honda Jazz, Volkswagen Polo, Nissan Micra, and new Holden Barina.
There are others, too, in a segment dominated 96 per cent in New Zealand by hatchbacks. Sales of the Suzuki Swift are expected to top 3300 units this year, about 600 more than last year. The Swift numbers alone lend weight to McDonald's prediction.
He believes the well-equipped small cars will not only lure more buyers but punch holes in sales of used Japanese imports.
"The opportunity exists for smaller cars to take a higher share of the market for more expensive used imports," he said.
"The high-spec and fuel efficiency of cars like the Rio and smaller A-segment Picanto make it an intelligent buying decision.
"Buyers get Kia's five-year warranty, rather than buying a five-year-old used import without a history."
The South Korean carmaker has watched its global sales grow by 100 per cent over the past four years, roughly 25 per cent year-on-year.
The trend continues - at the end of July, worldwide 2011 sales were running 25 per cent up on the same period last year.
McDonald is banking on 10 per cent sales growth in New Zealand this year. "That's below international levels of growth but that's due to factors outside our control, like supply for instance," he said.
"We have quite a strong model mix. Our weakest would probably be the Carnival (people-mover) but that's got about 24 per cent market share in its own segment.
"We should finish just shy of 2500 sales in 2011. Last year we did 2200, so we are looking at a 10 per cent increase over 2010.
"It's not what we are doing this year, it's what we will be doing four or five years down the trail."
The third-generation Rio goes on sale at the end of October, priced from $22,990. It was penned by Kia's design chief Peter Schreyer, the German-based stylist responsible for Volkswagen and Audi models before he moved to Kia a few years ago.
Schreyer set out to give the brand a distinct global face. He called it the "power to surprise". He said of his latest design: "Rio has, effectively, taken two steps up in styling evolution, instead of the customary one - lifting it to a new level.
"The main objective has been to elevate the perception of quality, to make it look and feel more prestigious and substantial."
The five-door Rio is a world away from the first-generation model, a dumpy hatchback. It will be joined next year by a four-door sedan and three-door sports hatch.
The three-door was unveiled at this week's Frankfurt show and will, so the rumours go, form the basis of Kia's foray into the World Rally Championship, challenging the likes of Ford Fiesta, VW Polo, and Mini WRC.
Rio launches in New Zealand next month with a 1.4-litre petrol engine mated to either a four-speed automatic gearbox with manual mode or six-speed manual.
It replaces the previous 1.6-litre unit and makes 80kW at 6300rpm and 137Nm of torque at 4200rpm. A 1.4-litre diesel due next year will make 66kW at 4000rpm and 220Nm between 1750 to 2750rpm range.
Kia says the new Rio has exactly the same power-to-weight ratio as the 1.6 model, thanks to it being 36kg lighter. The body shell is substantially stronger and has grown overall in size, yet sits 15mm lower in overall height, to deliver the appearance of a coupe.
Kia claims Rio is the best-equipped car in the segment. There are four models in the range, three petrol and one diesel, with two levels of trim, either LX or the more upmarket EX.
The entry-level 1.4LX ISG petrol manual is $22,990; the 1.4LX petro auto is $23,490; the 1.4LX CRDi (diesel) ISG manual is $24,990; and the range-topping Rio 1.4EX petrol auto retails at $25,790.
The first drive over a mix of roads in Canterbury showed the Rio to be a very tidy package indeed. The B-segment has just become more complicated.