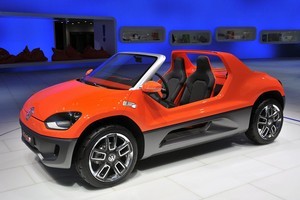 New car sales in New Zealand last month were up 22 per cent over August 2010, a sign that the industry is on a stronger footing after the earthquake and tsunami in Japan in March disrupted supply worldwide.
"The industry is very pleased with this result," said Motor Industry Association chief executive Perry Kerr. "We are now hopeful supply will soon be back to normal."
But the industry in Europe isn't entirely happy with its lot. Ford is cutting production at its factory in Saarlouis, Germany, because of a drop in demand in debt-laden southern Europe.
And Alfa Romeo has cancelled or delayed the launch of new models because of the poor economic outlook.
The Saarlouis plant makes the compact Focus model and the Kuga small SUV. It halted production for two days in August and aims to slow down production for another seven shifts this year.
"We are seeing an impact on demand from the market weakness in some southern European countries," said Bernhard Mattes, head of Ford's German operations. The concerns come as Europe has become entangled in concerns about sovereign debt, including a possible default in Greece, which has imperiled the stability of the euro.
Alfa Romeo chief executive Harald Wester, speaking to financial analysts at the Frankfurt motor show, said Alfa Romeo was scaling back its global expansion plans.
His remarks came one day after Fiat-Chrysler CEO Sergio Marchionne offered a gloomy assessment of Europe's debt crisis, saying the European common currency could come off the rails if political leaders don't resolve the lingering crisis soon.
Marchionne said the debt crisis had forced Fiat and Chrysler to examine the timing of new-vehicle introductions.
"We are reviewing volumes and the timing of new products to see when it is really necessary to launch them," Marchionne said.
The crisis in Europe was highlighted by the absence at Frankfurt of Swedish carmaker Saab. It had promised to unveil a new "design language". It is now on life support.
Volkswagen's Up!
Volkswagen didn't bring one version of its micro Up! model to the Frankfurt motor show it brought six! The six variants are the Buggy Up! (above), Up! Azzurra, Cross Up!, GT Up!, Eco Up! and e-Up! The Buggy is a modern take on the classic VW-based beach buggies from the 1960s. The Up! Azzurra, penned by VW design boss Walter de Silva. It is is a roofless, doorless summer cruiser.