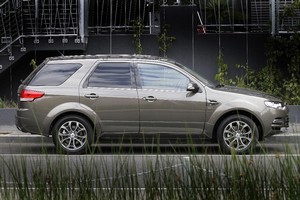 Ford, how did you get it wrong with Territory? Let us count the ways. Actually, it all started out rather well. In 2004, Ford rightly decided the market would welcome a large crossover based on (but very different to) the Falcon.
The Territory was a critical and commercial success. Here in New Zealand, we all thought a diesel engine would make the big Ford near-perfect - especially as there was a really good one on the Ford-Peugeot family, a 2.7-litre V6.
Unfortunately, at that time over in Australia they still thought diesel was a singer from the 1990s rather than a fuel that could power passenger cars. So, in 2006, Ford launched a searingly high-performance petrol version of the Territory. Almost immediately, petrol prices soared, then there was a huge financial crisis.
The Territory was having a crisis too. A minor facelift in 2009 didn't help much because, by that stage, Territory was way behind the FG Falcon in terms of quality and interior equipment.
So it's taken until 2010 for Ford Australia to properly realise the Territory's potential with this, the second-generation Territory range - which includes a TDCi turbo diesel option.
It is still powered by that 2.7-litre powerplant, although it's technically the old powerplant in the range now, since there's a new 3-litre version.
No matter, this one is bound to come at lower cost, and with 140kW/440Nm, there's still plenty of power and torque to propel the two-tonne-plus Territory. Our test car was the top-specification Titanium model, which comes with a heady $69,990 price tag. But you are getting a lot of car for your money: aside from the new interior (now far superior to Falcon) with seven seats, Bluetooth and iPod connectivity standard across the range, the Titanium gets full leather, a roof-mounted DVD player and a satellite navigation system that will calculate not only the fastest route but one that will emit the least CO2.
The new diesel is a marvel and works brilliantly with the six-speed automatic transmission. While changes to the car's structure have been considerable (a new front subframe to accommodate the diesel engine), the basic suspension settings have been left alone.
That's a good thing; Territory is still very soft but the weight transfer in corners is so beautifully telegraphed that it remains a genuinely fun-to-drive machine.
Overall fuel economy of 9 litres/100km is deeply impressive for a car of this size and Ford even reckons you can squeeze 1000km out of a tank on a long trip.
Really, there's now very little not to like about the Territory. It's true that it still doesn't feel completely fresh despite the bold new face and upgraded interior - more like a worthy update of a familiar model.
But the driving position is excellent, the seats superbly comfortable and the cabin crammed with handy storage areas. I wish the third-row seating was a bit less fiddly to stow, but Territory remains an outstanding family express.
The big question: is there any reason for the petrol Territory to still exist? In terms of driver appeal and efficiency, probably not.
However, with the Titanium TDCi only available as an AWD and the Titanium petrol (all petrol Territory models, in fact) only available in RWD, there's a $10,000 price differential between the two.
Sure, the petrol engine drinks 2.4 litres of fuel more per 100km than the TDCi, but $10k does give you the budget to fill the tank a few extra times. Sixty-five times at today's prices, to be precise. Worth thinking about.
Alternatives
* BMW X5 xDrive30d
$125,000
* Kia Sorento R Limited
$64,490
* Holden Captiva LX turbo diesel
$57,890
* Hyundai Santa Fe CRDi Elite
$66,990
* Land Rover Discovery 2.7 TDV6
$91,990
The bottom line:
It's taken Ford Australia a while to get to it, but new turbo-diesel Territory is packed with driver appeal and high-tech equipment. The sportiest seven-seater this side of a BMW X5, yet truly practical too.