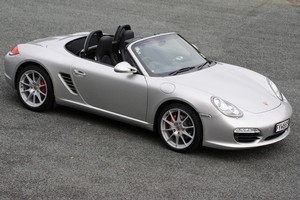 Looking back, it's hard to believe that when the Boxster debuted in 1996, many thought it marked the beginning of the end for Porsche as the world's most revered sports-car maker.
Those with short memories lamented that the engine was in the middle rather than the rear like the iconic 911.
Others felt Boxster was taking Porsche downmarket, establishing a cheaper entry point and benefiting from cost-saving production processes. It was also available only as a convertible - surely a sign that the German maker was going soft.
Hardly. Boxster proved as brilliant to drive as any other Porsche and introduced a new era of more efficient design/manufacturing for the maker.
These days, with Porsche building luxury four-seaters (Panamera) and large crossovers (Cayenne), Boxster is far from controversial; more like one of the brand's most focused machines.
Boxster has bulked up quite a bit since the original. That jelly-mould model of 1996 looked curvaceous and had a 2.5-litre engine making 150kW.
The second-generation Boxster S tested here looks pumped-up by comparison and boasts a 3.4-litre flat six (from the same engine family as the 911) making 228kW.
With the dual-clutch seven-speed PDK gearbox, it rockets to 100km/h in 5.2 seconds - 2.4 seconds faster than its predecessor.
That the Boxster should be accelerating down a wilder road in this way makes perfect sense. The next-generation 911, unveiled last month, is larger than ever with a 100mm increase in wheelbase, leaving room for the Boxster to keep moving upmarket. Porsche plans to build a smaller mid-engined sports car in 2014, the 550, to fill the gap where the original Boxster once sat. Expect the third-generation Boxster (set for a 2012) to further consolidate the new order of things Porsche.
All sound a bit confusing? Don't worry. In fact, the Boxster S is a car of wonderfully simple pleasures.
Despite the complexity of features such as direct injection, that PDK transmission, re-set suspension to accommodate larger brakes and options such as the Sport Chrono pack with launch control ($2560), the Boxster S is still all about classic roadster qualities such as sublime steering and beautiful balance.
Really, no other open-top two-seater comes close: I'd still favour the Mazda MX-5 for total involvement at 100km/h, but the Japanese car doesn't have anything like the Porsche's performance and deliciously ferocious engine note.
That's as it should be, since the Boxster S is nearly three times the price. Yet still good value, I'd argue, when you consider how far behind rivals such as the BMW Z4 and Audi TT RS are in terms of driving pleasure and chassis sophistication.
There's really only one thing that holds the Boxster S back, in my opinion, and that's the PDK gearbox fitted to our test car.
It's fast and fuel-efficient (9.2 litres per 100km compared with 9.6 for the manual), but struggles with smoothness at low speed and takes away that last piece of driver involvement you know is waiting with three pedals.
A moot point perhaps, since PDK is still optional ($6000).
If the idea of a Porsche soft-top still bothers you, think about that original 550 Spyder again. Or buy a Cayman - essentially a Boxster with a roof.
Alternatives
* Audi TT RS coupe
$144,300
* BMW Z4 sDrive35i SE
$128,900
* Mazda MX-5
$51,100
* Mercedes-Benz SLK 350
$130,900
* Nissan 370Z roadster
$82,800
The bottom line:
The Porsche Boxster gets a little wilder with each iteration ... but remains the roadster benchmark for pure driving pleasure. There's a new model on the way in 2012.