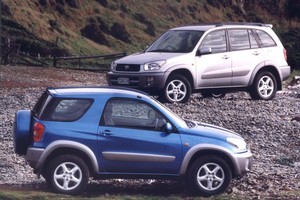 The dilemma
What do a Mitsubishi Lancer, a Toyota RAV4 and a Mazda 323 hatch have in common?
Normally, absolutely nothing other than being products of Japan, but today's link is that they're "first cars" being considered by single mum Kayce for her newly driver's-licensed daughter.
She collected those recommendations from far and wide. A guy at work said she couldn't go wrong with a Lancer; a neighbour, who once had one, said the three-door RAV would be perfect; a relative had a 323 that apparently did more than 200,000km with only routine maintenance.
None of the above is what daughter Cass has in mind. She's hinted at a Toyota Celica and, get this, an MG-F.
But Cass will have to be thankful for whatever mum buys her. The bottom line is that she has no money and it's a case of driving something "boring" or using the bus as a mobility device to support her active social life.
How many households could tell a similar story?
Many makes and models could meet this week's mandate, but let's stick with Kayce's list as each one, in its own way, is suitable.
We're looking at models from the early 2000s, which will all have ABS braking and at least one airbag. Cheap-to-run and relatively recent cars with an electronic stability program are outside Kayce's price range.
The budget: About $10,000
The shortlist
Mazda 323 hatch
The Mazda hatch offers four-door usefulness with appealing styling that's more likely than the sedan to suit a young driver. The market has been bombarded with used import 323s, providing a wide choice of models with either a 1.6- or a 1.8-litre engine. Both engines are well-regarded. Also consider the Ford Laser, which is much the same car.
From $8000
Mitsubishi Lancer
Lancers abound and sound examples with the durable 1.8-litre or 2.0-litre engine and low mileage are easily found for about $8000 - way less for rubbish; however, for a first car, mechanical soundness may be more important than a pristine body. With used imports factored into the mix, the choice of models is bewildering, so plan to spend some time looking.
From $8000
Toyota RAV4 three-door
The second version of the RAV, which appeared in 2000, lacks some perkiness of the original.
All RAVs hold their value well, so finding a good low-ish mileage example for $10,000 might be hard. A late example of the original shape could be worth seeking.
The cute and capable Toyota has a couple of extra things going for it. A relatively high seating position and all-wheel-drive are desirable safety features.
Some two-wheel-drive RAVs arrived as used imports, so be careful.
From $10,000
Driven recommends
The Toyota RAV4 has a magnetic appeal for women of all ages and is a practical choice.
Driven reckons that while it's not the Celica or MG-F Cass has in mind, it might hit the spot. So it gets our tick, even though the right one might stretch the budget. The Mazda hatch has some teen-appeal. As worthy as it may be, the Lancer is just plain boring. At least to a 17-year-old.