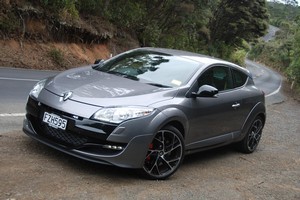 Renault's below-the-radar profile here got an energy shot with the arrival of this Megane RS250 Cup Trophee, which turned heads wherever we went.
Renault Sport had a big hand here. So as well as a 184kW/340Nm 2.0-litre turbocharged engine tuned for high performance with a slew of new components, there are wider wheel arches, a larger front air intake, pronounced sills and an elongated spoiler.
The sharp looks are matched to stiffer springs, dampers and anti-roll bar plus a mechanical limited slip diff; "look at me" red Brembo callipers tucked into eye-catching 19-inch alloy wheels; and on, sport and off settings for the ESP. A sport monitor display shows engine performance.
Slide into the Recaro seats, fasten the yellow seatbelts, and prepare for a driving experience that takes a demanding road to really grab you. The engine is less engaging than this car's handling; it's incredibly agile, spearing through bends like a missile.
We like
The car's outstanding dynamics; keep the revs high to make the most of it. Yet the sports suspension remains just supple enough for real-world motoring. There's no doubting this car feels special and is arguably well worth its $58,990 price.
We loathe
We'd like a rortier exhaust note; and the rear seat's claustrophobic because of a rising rear windowline that also obscures vision to the rear.