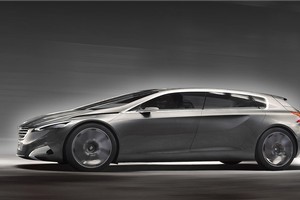 Peugeot's HX1 concept car can seat up to six adults while retaining a remarkably low drag coefficient of just 0.28, thanks to a few clever design tricks called "active aerodynamics".
These include fans that extend from the spokes of the alloys at higher speeds to create a smooth surface, a roof spoiler that deploys above 100km/h, as well as some clever side skirts.
Occupants enter and exit via five rear-hinged half-scissor doors. Designers have paid just as much attention to the interior: natural oak with inlaid optic fibres trims the floor, while there's brushed metal and swathes of leather.
But that's not the only show-circuit wizardry that the HX1 has to offer.
What marks the model out is its unique seating layout. It owes more to a London black cab than a conventional MPV, with two permanent seats in the front, two more in the rear and a further pair that pull out from the front seatbacks.
Passengers in the back are well catered for, with a minibar and coffee machine integrated into the white marble centre console.
High-tech features include a head-up display, a digital instrument panel and a central touchscreen.
The newcomer is longer and wider than a BMW X5, but lower than a 1-Series, and follows the Citroen DS5's lead by distilling people-carrier proportions into a sportier shape.
With its short overhangs and stubby bonnet, the HX1 aims to blend a spacious interior and a sleek profile. And Peugeot says it doesn't only point to future styling, it previews a luxurious production MPV.
Not surprisingly, the HX1 gets its power from a plug-in hybrid drivetrain, the same HYbrid4 system that is found in the 3008 and 508 RXH station wagon.
This uses a 152kW 2.2-litre HDi diesel to propel the front wheels and a 70kW electric motor to turn those at the rear. When the two work together, the car has all the benefits of four-wheel drive.
What's more, the set-up allows the HX1 to go 30km on electric power only. The batteries feeding the motor are rechargeable via a household socket.
All told, the vehicle produces 233kW while returning fuel figures of 3.2 litres/100km, or 88.2mpg, says Peugeot. The CO2 exhaust emission rating is a claimed 83g per km.
Peugeot will bring the 508 RXH into New Zealand around the middle of next year. The all-paw carry-all uses a less powerful version of the HYbrid4 set-up, a 120kW 2-litre diesel engine driving the front wheels and a 28kW electric motor moving the rear wheels.
As well as its high-tech powertrain, the hybrid 508 SW will get jacked-up suspension and off-road styling to stand out from versions with more conventional drivetrains.
The HYbrid4 system will feature only in the station wagon - it's too big to fit into the 508 sedan.
It is a product of the powertrain-sharing agreement the PSA Peugeot Citroen group has with luxury German carmaker BMW, further extended last month to include hybrid technology that will make it into production vehicles from 2014.
The joint venture, called BMW Peugeot Citroen Electrification, will provide both companies with economy-of-scale benefits while they develop and produce components for hybrid drivetrains including battery packs, electric motors, power electronics, chargers and related software.
The project's aim, besides developing standard bits and pieces for future BMW and PSA hybrid vehicles, is to develop an open European platform for the technology, where both companies could sell it to other carmakers.