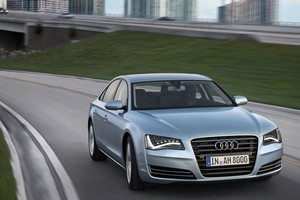 Audi has announced that its flagship A8 hybrid version will be available next year, with the combination of petrol and electric engine achieving a peak output of 180 kW (245hp) and fuel consumption averaging 6.4 litres per 100 kilometres.
The sedan can travel at speeds of up to 100km per hour on electric power alone, and cover around three kilometres with zero local emissions at a constant speed of 60km/h, according to the carmaker.
The combustion engine with an output of 155 kW works together with a disc-shaped electric motor which develops 40 kW. Carbon dioxide emissions are below 148g/km.
The driver has the choice of three modes: The EV characteristic map gives priority to the electric drive, while the D mode efficiently controls both the engine and the electric motor. The S mode and the tiptronic gate are designed for a sporty driving style.
Subtle design details distinguish the hybrid. Ten-spoke 18-inch alloys are standard. The body features hybrid badges. Arctic Silver is available as an exclusive paint finish.
The metallic paint finish, three-zone automatic air conditioning, LED headlights and the BOSE sound system come standard.
- AAP