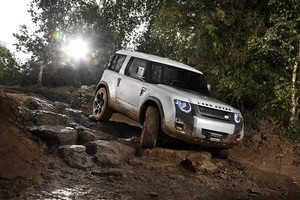 This is the Land Rover DC100 concept, the futuristic reinvention of the Defender's memorable design.
The off-road specialist has confirmed that the replacement for the Defender will go into production in 2015.
Official details are still scarce but Land Rover has aimed for what it calls a "functional and purposeful design" that celebrates the practicality of the original.
Design director Gerry McGovern said: "This isn't a production-ready concept but the beginning of a four-year journey to design a relevant Defender for the 21st century.
"Replacing the iconic Defender is one of the biggest challenges in the automotive design world - it is a car that inspires people worldwide."
The concept builds upon the essential elements of the car's character and allows Land Rover to open the debate about the Defender of the future.
Trademark Defender styling cues like the door mirrors and floating roof are set to go hand-in-hand with off-road extras such as a winch, sump guards and heavy-duty tow hooks.
Headlights inspired by the Range Rover Evoque add a dash of upmarket style, as do the raised bonnet line and aggressive alloys.
In profile, the block-like shape is combined with sharp creases in the body. Angular glass all-round creates a rugged, wedge-like shape.
Under the skin, the DC100 is expected to feature an updated version of the heavy-duty platform from the Discovery 4.
It also offers an enhanced Terrain Response system, as well as an advanced traction control set-up.
Power is likely to come from a range of new four-cylinder petrol and diesel engines, all developed at Land Rover.
No details on interior design have been released, but the latest satellite navigation and communication systems are expected to feature. This will be a world apart from the agricultural design of the current model.
Land Rover global brand director John Edwards said: "Loved the world over for its simple, honest and distinctive design, we are determined that the new Defender will be true to its heritage, while meeting the requirements of a changing global market. One thing's for sure, it's going to be an exciting journey."
The company felt a huge responsibility in replacing the Defender.
Chief executive Colin Green has said: "If we get it wrong, we are messing up one of the industry's biggest icons."
More details about the DC100 will be revealed on September 13, when the covers come off the car at the Frankfurt Motor Show.