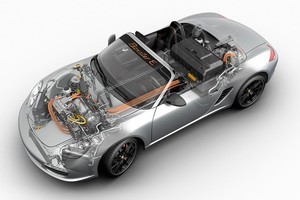 In the distance, you hear the rumble of a high-performance engine approaching. Your experienced ear identifies it as a flat-six Porsche. A few seconds later a Boxster growls past, and you smile to yourself that once again your finely honed, petrol-head senses haven't let you down.
Or have they? This is no ordinary Porsche, it's a Boxster E.
The flat-six has been replaced with a liquid-cooled lithium-ion battery, driving an electric motor in the rear axle. That might sound like heresy to a brand purist, but it's not surprising in a market where almost every manufacturer is developing or preparing to launch an electric model. The surprise here is that, despite its electric motor, it sounds exactly like its petrol-driven brothers.
Instead of being emitted by twin exhausts, the notes are played from a loudspeaker, rising and falling in pitch and volume with the engine speed.
The driver has another speaker inside the car so he or she can share in the illusion. Is this the result of a Porsche engineer with a sense of humour and too much time on his hands? Not a bit of it.
The Boxster E may only be a development model, but it represents Porsche's solution to a problem that the motor industry, countless pressure groups, and legislators worldwide are grappling with.
Engineers have been working for decades towards the holy grail of zero emission motoring.
Counting the lack of engine noise as a welcome bonus, no one gave much thought to the fact it warned other road users, particularly pedestrians, of an approaching vehicle.
Pressure groups in the US representing a variety of road users, including the blind, successfully campaigned for a solution to the problem, resulting in the Pedestrian Safety Enhancement Act.
Similar legislation will surely follow in Britain and the rest of the EU.
Legislation states, in effect, that motorised vehicles must emit a noise to warn other road users of their presence. What it does not dictate is what that noise can or cannot be, nor how loud it should be. Those details are being left to the marketplace.
The history of legislation is littered with examples of where legislators got it wrong, but they pale beside the number of catastrophic decisions made by an unfettered marketplace. Left to their own devices, what noises are the manufacturers planning to impose upon electric car buyers?
Porsche's fellow German manufacturers are approaching the issue with customary thoroughness. Audi and Mercedes are keen to formulate a sound that will have some form of identity, but they appear to be treading a different route from Porsche.
Mercedes talks of "a naturally produced sound that does not mimic an internal combustion engine". Dr Ralf Kunkel, head of acoustics at Audi, says: "One obvious approach for an electric car sound would be to work on the basis of the familiar sound of a combustion engine. But we're studying several other approaches at present. Some sounds, such as the rustling of leaves or the twittering of birds, are not viable options for Audi.
"However, the sounds used for spaceships in films are reminiscent of car sounds, yet also very different, making this a rather interesting approach."
Nissan is more explicit with its Leaf model, whose turbine-like hum has frequencies ranging from 600Hz to 2.5kHz depending on the car's speed. The seven-person development team, headed by Tsuyoshi Kanuma, consulted extensively with classical music composers before arriving at the final sounds. The noise needed to carry well without being excessively loud, and a breakthrough came after examining how opera singers make themselves heard above the sound of the orchestra. Before this role, Kanuma had spent 30 years as a vibration and noise engineer, trying to make conventionally powered Nissan cars as quiet as possible.
In Britain, Lotus Engineering has developed the Halosonic sound system, which offers a choice between V8 and V12 engines or, like Audi, a spaceship.
These and similar firms represent the more responsible end of the market. Bran-Rae, which produces and distributes electric vehicle sounds, is a somewhat less established firm. Its EVtones website offers a seemingly unlimited range of noises for electric vehicles, which are downloaded on to MP3 players, then played through the vehicle's external sound generator.
An indication of their seriousness of purpose can be judged from the suggestion that you "pull up next to that Harley, switch to chopper sound, and have fun as they listen in disbelief". It also claims every sound has a tone embedded in it of a frequency that only dogs can hear, in order to "to pre-alert seeing-eye dogs".
It's easy to smile wryly at the lack of clear thinking demonstrated by legislators and some car makers. But CE Delft, the independent environmental research and consultancy organisation, estimates the social costs of road traffic noise in the EU exceed €40 billion ($70 billion) a year, and that traffic noise is harming the health of almost one in three people in Europe.
Perhaps we should find the time and political motivation to reach the right solution - not the one that suits the marketing departments of big companies, which, often, are wedded to the mantra that loud is good.
- INDEPENDENT