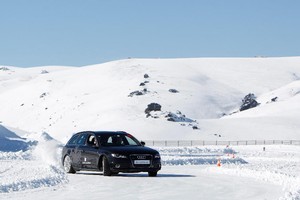 In some respects, Audi New Zealand's Ice Experience has been a victim of its own success. Before 2009, events of this type - which give Audi customers the chance to take cars to the limit in ice and snow under expert tuition - had been restricted to the Northern Hemisphere.
But three years ago, Audi New Zealand organised its own Ice Experience at the Southern Hemisphere Proving Ground (SHPG), better know as the Snow Farm, near Queenstown.
Given that the SHPG is most often used for secret vehicle and tyre testing, and is atop the Pisa mountain range, it was a logistical nightmare. But it was a dream drive for all participants, including yours truly.
The second event, in 2010, was every bit as enjoyable but less commercially viable - partly due to the recession and because Audi New Zealand played with the format, giving a longer programme at a higher cost.
The Ice Experience is an expensive exercise. Even with some customers paying up to $3000, the event is still 50 per cent subsidised by Audi. There was enough financial risk for Audi New Zealand to consider taking a break in 2011, but there was pressure from the factory in Germany to continue the SHPG Ice Experience.
And so it does, with extra financial support from Audi headquarters. This year, some customers came from Australia.
You get the sense there's no going back for Audi New Zealand. Getting a fleet of cars and paying customers to the top of a mountain range in winter is a massive undertaking.
The Kiwi Ice Experience remains unique. It follows the template of Audi's European programmes, but is the only one in the world to employ local instructors - with guidance from Austrian Stefan Eichorner, an Audi ice-driving expert who has been here five times in three years to assist with the Kiwi event. Exercises deemed a bit too German - steering exercises at walking pace, for example - have been dropped.
Others have been designed by the local team to make the most of the venue. Yes, the venue: SHPG is surely one of the most exciting venues for any Ice Experience worldwide.
I've completed two of Audi's Ice Experience programmes in Europe in recent years, but neither was as enjoyable as this one. "It's important to understand this only happens because of a special relationship that's been formed between Stefan and New Zealand," says Audi New Zealand general manager Dane Fisher.
"Or on a more personal level, between Stefan and Tim Martin [lead Kiwi instructor], who have become very good friends. This is a unique programme, built around the snow farm and around New Zealanders."
Like Audi's cars, the Ice Experience has been subject to continuous improvement in recent years. The day starts with exercises inducing/controlling understeer and oversteer, including a high-speed loss-of-control lane-change exercise. For the inaugural 2009 event, that was really the end of the day.
For 2011, those exercises have branched out into activities that encourage you to string snow-driving skills together. The highlight is "Little Finland", a narrow winding track of sheet-ice that robs your car of traction. In case you think you're becoming an expert, there's also a ride-along hot-lap with Eichorner in an RS5 coupe - kissing snow banks sideways at 150km/h-plus. Thrilling, and a great reality check for most of us who are struggling to keep control at 50km/h.
"It's about fun," says Tim Martin, "but out of that comes an awareness of car control." Admittedly, the Ice Experience is a bit of a marketing white-out. The company is keen to play up its rally heritage, with images of the original Eighties-Quattro on high-rotate at the SHPG base - even though Audi hasn't really been serious about international rallying since 1986.
And while "quattro" is a brand-name for a variety of four-wheel drive systems used by Audi over the years, some participants seemed convinced quattro enabled Audis to do things other all-wheel drive cars couldn't. But hey, that's okay. Only Audi owners are invited, so the company is preaching to the converted.
In that context this event is a stroke of genius from Audi. They've hosted 110 people this year - the last cycle will be wrapping up as you read this.
I do understand: even with my most cynical journalist-beanie on, it's hard not to get overtaken with enthusiasm when you're allowed to play rally-driver in such an exclusive location, with cool cars like the S4 and S5.