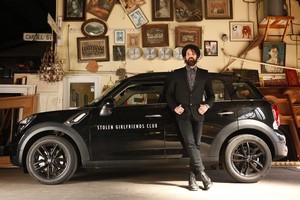 In the US, car companies use rap stars and Hollywood actors to promote their products. But in New Zealand, fashion designers are the driving force of promoting vehicle brand.
And as NZ Fashion Week begins, the relationship between labels and car brands is highlighted. Audi NZ is supplying vehicles for VIPs and to MAC makeup, and a few cars will have their own fashion show by being on display at the Viaduct Event Centre.
But for two labels, Stolen Girlfriends Club and Workshop, their car sponsor is as essential in Fashion Week as models, makeup and the runway.
The two labels, their customers and the vehicles they drive courtesy of their sponsors are at the opposite ends of the spectrum.
Workshop was started in 1980 by Chris Cherry and has the offshoot label Workshop Denim and Helen Cherry (named after his wife and designer) that is loved by 40-something established clients.
The Cherrys are driving a 535i Touring courtesy of their car company sponsor BMW NZ.
Stolen Girlfriends Club (SGC) is sponsored by Mini NZ and is favoured among the young, cool crowd. It was established in 2005 by surfing mates Marc Moore, Dan Gosling and Luke Harwood and recently pushed into the American market by setting up a base in New York.
But in 2007, the trio was struggling to put together a show for NZ Fashion Week - until a meeting with Mini NZ.
"We were so naive back then and didn't realise we needed sponsorship," explains Moore.
"But, two months before Fashion Week, Mini came on board."
Needing to incorporate their sponsor with their label, they decided to make a video called "How many models does it take to fill a Mini".
"We thought when people think of Minis they think small compact car, and we are all about girlfriends - Stolen Girlfriends Club - so we thought how many models could you fit in a Mini," says Moore.
The result was 12 models in the Mini (thanks to clever editing) and a YouTube hit.
Since then, SGC has incorporated a Mini into their Fashion Week show. In 2009, Moore designed a punk-inspired collection with plaid and leopard prints. So the Mini had a punk makeover too.
"I cut out leopard velour material to fit the panels of the car, used double-sided tape to stick them on and made ride in style
We even had a computer picking girlfriends that could go with the car ... SGC's Marc Moorea bushy tail to stick at the back.
"Last year we made a film about how you can customise the Mini. We even had a computer picking girlfriends that could go with the car, and we showed that at Fashion Week."
This year the collection is based on the "idea of bones", says Moore, so SGC is trying to produce a vinyl wrap sticker to go on a Mini for their show on Wednesday night.
"The car is going to have a full vertebrae across the top and then ribs down the side," says Moore." We want it to glow in the dark so it will show at night."
And as the use of Minis in their shows change, so too do the vehicles they drive.
The first year, Moore was lucky enough to be the only one from the label to drive a supplied Mini as Gosling had three other businesses to run and Harwood didn't work fulltime for SGC.
But last year Harwood joined the label permanently so Mini NZ told him he had to drive one of their vehicles.
He was given the stylish black Mini with black alloys, while Moore had the recently launched Clubman.
But things have changed this year. Harwood is running the New York office, and sitting in front of SGC's Grey Lynn warehouse is a black Countryman with 17in wheels, black alloys and heated seats - a luxury Moore appreciates after a surf mid-winter at Piha.
But having a car company sponsor is not all about driving a new car.
"The brands go together well. Stolen Girlfriends is always out there to have fun, to have that emotional connection. I think Mini is like that too - and they are bloody good fun to drive."
Okay, maybe part of it is driving a new car.
In the Club
One of the most frequent questions Marc Moore is asked is, "What does Stolen Girlfriends Club mean?"
The answer and name of the label is based on an art show Moore held after his professional surfing career ended early because of a back injury.
Moore painted a collection called Stolen Girlfriends Club based around the idea of stealing girlfriends who haven't been treated well by boyfriends.
Even now, as he drives the Mini Countryman with the label's name on the side of it around Auckland, he gets comments from motorists. "Guys yell out, 'stolen any girlfriends lately'," he laughs.
Not that he cares as the Countryman is a big step up from his first vehicle - an orange Morris 1100 that didn't have a warrant of fitness or registration and was given to him.
"I didn't have my licence at 17, and I lived with my mum in Raglan across the road from the police station. Every day when the surf was good, my mates would come around and shove their boards in the back seat and out the window."
Moore became a professional surfer and was the first one to be sponsored by a car company - Subaru. The car and surfboard are still important. He reckons he could fit eight boards on the roof of the Countryman for the annual New Year's trip to Gisborne.
Cherry picking
The relationship between Chris and Helen Cherry and their car sponsor BMW is based on a passion for the environment and classic designs.
While Workshop's focus over the years has been jeans and street wear, the Helen Cherry label is known for sophisticated and tailored women's outfits.
So in 2009, BMW NZ approached Workshop to collaborate before Fashion Week because of the labels' well-known push for sustainability.
"BMW's approach to vehicle design has always been to push the envelope and challenge convention which is a philosophy shared by and reflected in the Workshop brand," said BMW New Zealand's Managing Director, Mark Gilbert.
"We are also two like-minded luxury brands who place a strong emphasis on quality and sustainability.
"As an independent company, we can make bold decisions with regard to design and technology which sets us apart in the world of premium vehicles. Workshop has the free-thinking philosophy and we enjoy a prosperous partnership, rich with creativity."
It was a clear synergy between the brands that attracted Chris Cherry.
Chris, what did you think when you were approached by BMW NZ?
I was already interested in working with BMW but it was their matter-of-fact, sensible approach to sustainability that really nailed the partnership for me. I really liked the way Mark Gilbert explained BMW's belief that they could no longer command luxury brand status without being sustainable, so they went from one end of the car to the other and made everything lighter, smarter and more sensible.
There's also an obvious synergy in terms of design and attention to detail. BMW are all about design from the ground up and so are we. It's not only about aesthetics, but also about function, quality, construction and intrinsic good design. A lot of the beauty of the design of a BMW is in the construction and we like to think there are similar values in Workshop and Helen Cherry garments.
There's a really solid connection between the brands, different products but similar ethos.
What does this relationship mean to you professionally and personally during NZ Fashion Week?
We've joined forces for a number of co-branded initiatives and events. During Fashion Week, BMW's support allows us to produce a much more significant show as well as working with us on the smaller details, down to transporting our VIPs and models.
What do you think about your BMW 535i Touring?
It's black, stylish and cool but low-key and discreet. Like many New Zealanders, Helen and I like the practicality of a Touring - perfect for weekends, Saturday sport and I can still throw a few rolls of fabric in the back. The thing I like most about my 5 series is the way it drives and it has a very satisfactory growl ...
Have you thought about designing an interior of a BMW?
I would love the opportunity and we've had a few initial discussions. A couple of the artists we collaborate with on our collections have also expressed interest in painting the exterior.
What was your first car? And what would be your favourite?
My first car was a Renault 16TS which I sold to help fund my first Workshop store. My favourite car, purely from a design perspective, is the Citroen SM - a futuristic mid-70s Gran Turismo coupe with a Maserati V6, a complete commercial failure as I understand it but a design classic nonetheless. My future favourite car is the BMW i8; it combines spectacular design, leading edge sustainable technology and true sports car performance