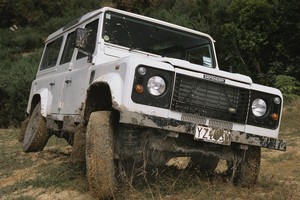 The dilemma: Anthony has made the decision about what to buy, but needs some assistance in deciding which model.
His choice is a Land Rover Defender 110 wagon, and he has come to the right place - for more than 12 years oil gently dripped on to the Buyers' Guide garage from the shorter Defender 90.
Anthony is aware that an old Defender, even one with a high mileage, can still be a good Defender, as long as rust hasn't got a serious hold on the chassis or around the bulkhead.
So the less he has to pay, the more he can sink into his boutique adventure tourism business.
Although a Defender 110 can seat up to 10, depending on the seating configuration, he'll be running it as a five-seater, with lots of room in that big, boxy body for gear, food and refreshments.
There aren't many used Defenders around, but there are just enough potential buyers to create a demand that tends to keep prices high.
Well-maintained early models with a service record can fetch almost ridiculously high prices.
Following are three models spanning 20 years, from newest to oldest.
The budget: Flexible, but $50,000 tops
The shortlist:
Defender 110 SE: Introduced in 2007 with a totally new dash, revised seating, a "new" 2.4-litre diesel from the Ford Transit van and a six-speed manual gearbox, this is the ultimate Defender as we know it, as an all-new model has been confirmed for 2015.
It's quieter and more refined and the gearbox provides lower gearing for off-roading and a higher ratio for more relaxed cruising. The penalty is that, around town, there's too much gear changing going on, compared with the older five-speed.
The dash isn't to everyone's liking and the integrated aircon isn't really very good.
From $55,000
Defender 110 Td5: This one's probably the best all-rounder.
This 110 was introduced in 1998 with the then-new 2.5-litre five-cylinder turbodiesel.
Despite a few glitches, the engine has been generally good and worries about its electronic controls largely unfounded.
Initially, hard-core Land Rover enthusiasts and some fleet managers decried the motor because of its computerised management.
Early high-mileage Td5s in reasonably good shape sell in the mid-$20,000s, while low-mileage late versions easily fetch in the $40,000s.
From $25,000
Defender 110 300 Tdi: The 2.5-litre 300 Tdi arrived in 1994. With no "black box" overseeing the engine's every move, it's a favourite among enthusiasts. The Tdi proved strong and durable, with one major exception; a fault on a significant number that caused premature wear - and possibly sudden failure - of the cambelt. Fortunately, the belt provides clues that it is wearing; any mechanic with Land Rover experience knows what to look for.
From $22,000