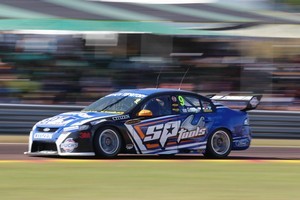 After the mid-season break, the V8 Supercar teams are at Queensland Raceway this weekend for the Ipswich 300.
All the drivers will be keen to get back behind the wheel and commence battle again at round eight of the championship, the last sprint format before the endurance weekends at Phillip Island and Bathurst.
Series leader Jamie Whincup has a 186-point buffer over his Team Vodafone teammate Craig Lowndes, and Stone Brothers Racing Kiwi flyer Shane Van Gisbergen is handily placed in third a further 180 points back.
Whincup is fast closing on 50 career wins. He notched up number 48 at the Townsville 400 weekend, and is now equal with Peter Brock on the overall winners list.
His rivals will be a little nervous this weekend, as Whincup has made it on to the podium 11 times from the 15 races run this year.
The Victorian has the bit between his teeth, and is keen to keep the chasing pack at bay in an effort to grab more points in his march towards championship title number three.
"The break seems quite long, and forever ago we were racing at Townsville," said Whincup.
"Anyone would think it's been quite relaxing, but for me it's been all about making sure everything off track is about being on track.
"Without doubt I'm keen to get back racing, but I'm also a bit rusty. In the last five weeks I've been in the car for one day. But it's the same for everyone and we'll just go out there and try to perform at our best."
While Whincup will be keeping an eye on his nearest rival, Lowndes, the Kiwi Van Gisbergen will also be in his sights.
"Outside of our team, Shane is the next guy to keep a watch on, and we'll be keeping an eye on him more than anyone else.
"Garth [Tander] and his team's cars are well set up for the Queensland Raceway track, so we're also aware they'll be quick again this weekend and we'll have to be on our A-game," said Whincup.
With his recent form, Van Gisbergen has proved he can run with the top guys and win races. But to consistently run with the top dogs in the V8 Supercars championship, the SP Tools driver and his team have to get their qualifying sorted.
Van Gisbergen has spent much time passing cars this season to get to the pointy end of the field to prove he can race.
If he can start at the front he'll be a handful for Whincup and Lowndes.
"I've had a couple of days off and am all recharged for the weekend and ready to go," said Van Gisbergen. "We did a bit of testing recently and have changed a few things on the car and have put a new front end on.
"Qualifying will be important but there are a few good places where you can pass ... on our test day we changed a few things to make the car better.
"Hopefully it's going to work in qualifying and it'll put us somewhere up near the front for the race. You're never going to get a massive jump in improvement in performance for qualifying because everything is so close. But a tenth here or there will make a huge amount of difference."
Today's 22-lap first race will be preceded by a 20-minute qualifying session to determine the grid but then it gets interesting.
Immediately after the end of the race the cars will pit for a 15-minute service interval before they line up for race two in the positions in which they finished.
Tomorrow is a 20-minute qualifying session, followed by a 65-lap race.
Points
1.Jamie Whincup 1683
2.Craig Lowndes 1497
3.Shane van Gisbergen 1317
4.Rick Kelly 1244
5.Mark Winterbottom 1201
6.Will Davison 1200
7.Garth Tander 1190
8.Steven Johnson 1165
9.Alex Davison 1110
10. Jason Bright 1043