The rumour mill is in overdrive in anticipation of the all-new hot hatch.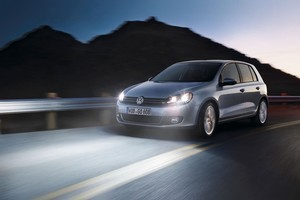 Volkswagen is set to release an all-new Golf - and it's got the internet buzzing with dubious artists' impressions and spy shots.
The Mk VII will sit on a new platform when it is unveiled next year, possibly at the Paris Motor Show. The new MQB platform, with its slightly longer and more versatile wheelbase, means a host of new siblings will follow: a new Plus, cabrio, wagon and a sedan.
Judging by the flavour of most images doing the rounds (and working on the theory that some are at least a little bit right), the new car will have a sportier look, a more raked windscreen, wide rear arches, a two-bar grille and LED lighting.
It will have a bigger boot than rivals like the Ford Focus and the Renault Megane, and should also allow for more leg room in the back seats.
There will be a number of engine options in Europe, although we're likely to get a lesser line-up in New Zealand. Turbocharging will feature heavily, starting with a small 1.2-litre variant - that will return a theoretical mileage figure of about 21 litres per 100km - and going up to the next-gen GTi and R models, the latter being expected in four-wheel-drive, 220kW form.
Diesel models will include 1.6 and 2-litre TDI options, and there's talk of a plug-in hybrid and an all-electric e-BlueMotion. Six-speed manual front-wheel-drive models will be available at the low end of the range, while the flasher models will be fitted with the seven-speed DSG gearbox.
Tech goodies are also promised, including web access sat-nav, blindspot monitoring, and lane departure and low-speed collision warnings.
"I'd bet on a production-ready concept being shown in Paris next year, which is [in] September," says Volkswagen New Zealand's Dean Sheed, warning that Kiwis will have to wait a bit longer to get their Golf fix.
"Left-hand-drive models generally go into production just before Christmas, and then the right-hand drives follow, so it will probably be late in the first half of 2013 before we see it. It's a major release, the first model released on the new MQB platform, and it's very high tech and an impressive modular design."
The platform will be shared with Audi's A3 and Skoda's Octavia.