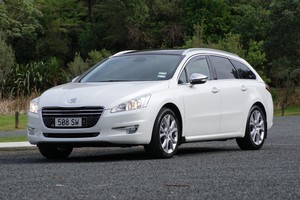 Peugeot is one of those European brands forever trying to propel itself out of the mainstream and into the premium class. With the new 508, it might have stumbled over quite a small hurdle: the key.
It's that little piece of car that goes everywhere with you. You hold it, feel the action of the buttons with your fingertips, sometimes even throw it on the table at a cafe.
Premium cars generally have really nice keys. Outwardly, the 508 does - it's a different shape to the parts-bin item that starts a 207 or 308, has a substantial feel and is finished with a nice line of chrome-look trim around a glossy black backplate.
Trouble is, the key of our very new 508 SW test car was looking pretty secondhand, with scratches all over the shiny backing. A small thing, but it rather undermined the Peugeot's opportunity for a great first impression. Delight can be in the detail, but so can disappointment.
I digress. Fob off those key concerns and the 508 marks the start of a new generation of Peugeot models: different styling themes, a new attitude towards driving and a higher level of cabin quality.
As it should, because until the 1.6-litre petrol Active model arrives later this year, the 2.0-litre HDi diesel Allure is the entry-level 508 - at $54,990 for the sedan and $57,990 for our SW five-door.
That's a lot of money for a French midsizer, but then this is a really great car. Peugeot's diesel technology is well proven (120kW/340Nm, 5.7 litres per 100km), the six-speed automatic shifts in a sensible (if occasionally sluggish) way and the chassis is superb.
The 508 isn't back to the level of Peugeot's great driver's cars of the 1990s, but it does feel like it came from the same company. The 508 has strong steering, true cornering poise and pretty decent ride.
Peugeot cabins have been a mixed bag in recent years. The 508 plays it safe on styling and concentrates on fundamentals like fit/finish and equipment - with success. The Allure offers part-leather upholstery, parking radar front and rear with an "assist" function that lets you know whether a space is large enough, glass roof, four-zone air conditioning, blinds for the rear-side windows and powered tailgate.
So ... it's a French car. It's got to have some inexplicably annoying details, right?
Actually, the 508 has remarkably few. The staggered gate for the automatic gearbox is so fussy it's a rat-in-a-maze situation to find reverse gear, the electronic handbrake is jerky, the centre-console information display persists with the confusing interface of other Peugeots ... and that's about it really.
This is a genuinely impressive car that's got the look, the driving dynamics and the quality to command your attention. Does it finally earn Peugeot those premium credentials? Put it this way: if I was in the market for a 2.0-litre turbo diesel Audi A4 Avant, I'd be totally swayed by this particular Peugeot. Seriously. Not all to do with an $18k price difference, either.
Since the 508 Allure comes as standard with keyless entry/start, I'd just keep that scratched keyfob in my pocket.
The bottom line:
Finally, a Peugeot that will appeal to more than just the Francophiles. New 508 is generations ahead on dynamics and quality. A pleasing alternative to entry-level executive cars.