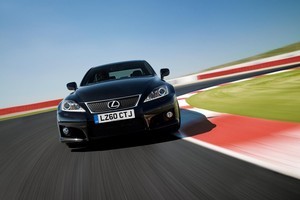 Toyota puts the pedal down and chases BMW's M3
Lexus is to fiddle with the chassis of its high-performance IS-F sports sedan to better compete with its German competitors, notably the BMW M3.
It is the third chassis revision in as many years after the original 2008 IS-F received mixed praise: plaudits for its V8 performance but criticism for its track-bred suspension set-up.
The Lexus will get a new set of high-tech low-friction dampers and revised springs to add some suppleness to its ride quality. Also, a wider front wheel/tyre combo aims to provide improved steering turn-in on the revised model that has just gone into production in Japan. It is expected to land in New Zealand within the next two months.
Lexus says modifications to the IS-F since it was launched represents Toyota's famed "kaizen" system of continuous improvement.
Suspension modifications were planned right from launch, with the first batch coming last year in the MY11 model.
Now, Toyota's luxury brand has looked to Germany for further refinement by adopting low-friction, low-viscosity dampers made by Sachs to improve initial bump compliance while slightly stiffening the springs all round to ensure flat cornering.
Lexus engineers say the new set-up - which will be introduced on other Lexus models, including the all-new Lexus GS large sedan to be launched at Pebble Beach Concours in California - also improves high-speed response to steering manoeuvres.
The IS-F's undercarriage changes will coincide with a number of visual tweaks, including new 14-spoke BBS alloy wheels, a red-and-black leather interior - replacing the orange-black option - and a new exterior paint colour, Mercury Gray.
The IS range is expected to get a full-model change in 2013, although a redesigned IS-F is unlikely to be available from launch. Until then, the IS-F will remain in production with the same 5-litre 311kW V8 that produces 505Nm of torque and can push the sedan from zero to 100km/h in 4.8 seconds.
The engine is mated to an eight-speed Sport Direct Shift automatic transmission with paddle shifters on the steering wheel.