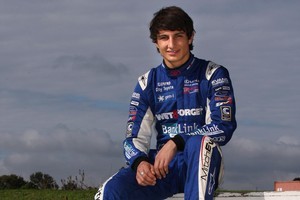 The European GP3 series, in which New Zealander Mitch Evans competes, is a new wings and slicks open wheel category established in 2010 to help drivers develop the necessary skills to move to GP2 and then Formula One.
Since its inception a year ago, the series appears to have supplanted the more established various Formula Three championships as the place to be seen. GP3's main advantage is that all the events are support races for F1, allowing the drivers to gain firsthand experience of racing at an F1 Grand Prix.
As a bonus, the up-and-coming youngsters can strut their stuff in front of F1 team owners, principals and drivers - something Evans is experiencing as he contests the series with MW Arden, which Red Bull Racing F1 driver Mark Webber and Red Bull Racing team principal Christian Horner head.
In only its second season, GP3 has thrown up 10 winners, including Evans, in the first 10 races in 2011.
With stats like that it wouldn't be stretching the truth too far to say the depth of talent is huge. And for just turned 17-year-old Evans, in his first foray into Europe, to have led the championship at one stage bodes well for his future in motorsport.
Early success can, however, come with early misadventure as well. Evans found how fickle motor racing can be in his last two rounds in Germany and Hungary, which saw him drop from a comfortable second in the series to sixth, due to team, driver and mechanical errors.
"You've got to experience these things as well so when they most likely happen again in the future you'll react to them better," Evans told the Weekend Herald on a trip back home before heading to the next round in Belgium at the Spa-Francorchamps circuit, August 27-28.
"You've got to move forward and put it behind you. But at the moment it's pretty tough having slipped from second to sixth but having Mark [Webber] around is great because he's experienced worse things than this and he just keeps telling me it's just a small part of the journey and not get too frustrated about it.
"It's only going to help me grow better as a driver and a person. Hopefully we'll bounce back and have a shot at the rest of the championship."
The strength through the grid shows this new category will continue to grow and having F1 teams involved is great for the future of the series. For Evans to be able to match the best the series can offer, including getting pole and race win to go with his other podium finishes, shows he's a young driver to be watched.
It's the fierce competition that will make or break the young Aucklander and so far he's not shying away from the challenge.
"Basically, because the class is so competitive and close and the cars are hard to pass because of the lack of downforce when you get close, how you qualify sets up your whole weekend. If you qualify outside the top 10 it makes really hard to come through the field," he said.
"When each driver is so close in time [a field of 30 drivers can be separated by only a second] you have to find a bit extra and try and force the guy in front of you to make a mistake or it's just going to be a procession of follow the leader.
"It's hard to make theses guys make a mistake and when they're at the top of their game - it's pretty difficult," said Evans.
Points
1 Valtteri Bottas 41
2 Alexander Sims 34
3 Nigel Melker 32
4 Lewis Williamson 31
5 James Calado 31
6 Mitch Evans 28
7 Adrian Quaife-Hobbs 28
8 Nico Muller 21