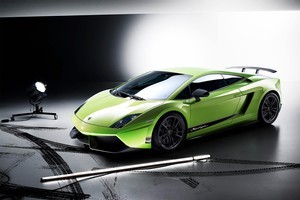 Lamborghini will reveal at Frankfurt its most hardcore Gallardo ever, almost certainly a street-legal version of the Super Trofeo from its one-make race series. Only 30 examples have been made. Each features a 420kW 5.2-litre V10, along with a six-speed e-gear paddleshift transmission and race-spec suspension. Thanks to a stripped-out interior and use of composite materials, it tips the scales at a mere 1300kg - 110kg lighter than the standard car and 40kg down on the special-edition, featherweight Gallardo Superleggara (pictured). Aerodynamic tweaks include a big wing at the rear and a ground-hugging front splitter. Expect a zero to 100km/h time of three seconds and top speed of 340km/h. The fastest, most extreme Gallardo of all will be a fitting way to mark the end of the car's production. The entry-level Lamborghini will be replaced next year by an all-new version, which is rumoured to carry a fresh name: Cabrera.
Electric sprint of 260km/h? Ring it up
Toyota plans to smash the existing electric vehicle lap record at the Nurburgring circuit with a purpose-built, battery-powered two-seater.
The current record for EVs at the 'Ring is held by the Peugeot EX1 and stands at 9:01.338, a time Toyota says it has already beaten during testing. It says its EV racer can sprint from zero to 100km/h in under 4 seconds and on to a top speed of 260km/h. The car is loosely based on the radical Alpha-1 SRF. Rob Leupen of Toyota Motorsport says: "We are extremely confident we can break the record by some distance, which is an indication of how electric vehicle performance is continuously improving."
Alfa sprouts mega-slick 4C
Alfa Romeo is counting down to the Frankfurt motor show with a teaser on its Facebook page. The shot hints at a production version of the concept 4C sports car (above) that Alfa unveiled at the Geneva show in March. The mid-engined model was a hit there, with show-goers raving about its styling and use of a carbon-fibre chassis developed with race specialist Dallara. The Porsche Cayman rival gets a 1.75-litre four-cylinder turbocharged engine, which sends around 190kW to the rear wheels via a six-speed twin-clutch gearbox. The 4C is likely to go on sale next year, first in Europe and then the US, as part of a plan to resurrect the Alfa Romeo brand in America.
Faster, more furious and less fancypants, thanks
Ford may give its Focus RS hatchback more oomph. The $70,000-plus hot green flyer uses a turbocharged 2.5-litre five-cylinder Volvo engine that delivers 225kW to the front wheels. A fancypants front suspension is said to dampen torque steer. Word across the ditch is that Ford will replace the Volvo unit with its own 2-litre Eco Boost four-cylinder, to deliver upwards of 260kW in the facelifted Focus RS. Less powerful versions of the same engine go into the Focus ST, updated Falcon and new Range Rover Evoque.
Ocker shocker for flock of Mercs
The harsh Outback crippled a convoy of seven Mercedes-Benz G-Wagens after the first week of a 1600km trek through Western Australia. Endless corrugations on the historic Canning Stock Route - created at the start of the 20th century to get cattle from remote stations in Kimberly to Perth - blew out the rear shock absorbers of six of the seven vehicles. The undamaged vehicle was a specially modified military-spec unit called the G-Professional that the German carmaker is considering bringing into Australia and New Zealand. The convoy limped on to an Outback airstrip, where new shocks were flown in on a chartered plane. All seven were G350 turbodiesels, powered by 3-litre V6 units delivering 155kW at 3400rpm and 540Nm of torque between 1600rpm and 2400rpm, and mated to seven-speed automatic transmissions. The G350 is priced from $179,900 in New Zealand.
Beemer's 'i' well manoeuvred into 'mission achieved'
The hybrid BMW i8 that was on show at the Auckland Museum will star in the next Mission Impossible film, Ghost Protocol. The movie, featuring Tom Cruise, Simon Pegg and Jeremy Renner, will be released later this year and will mark the start of a major PR campaign by BMW to publicise its new "i" sub-brand. One of BMW's more conventional models, the 6-Series convertible also features, but comes to grief in a head-on crash. The i8 and smaller i3 will go on sale in 2013, followed by the i4 coupe and i5 sedan. Both will be based around the carbon-fibre reinforced plastic structure and use variations of the hybrid drivetrains fitted to the i3 and i8.
Street cred with a bespoke suit
Ferrari owners will soon be able to make their cars a little more exclusive with a "Tailor Made" programme. To be unveiled at next month's Frankfurt motor show, the service will offer buyers almost unlimited customisation.
Ferrari says: "This innovative programme enables clients to create an individual car, using exclusive and unique materials, colour and trim with the support of a dedicated team, as if it were a bespoke suit." Examples included a matte blue California complete with matching alloy wheels and a denim and leather interior; a 458 Italia with bright-orange leather seats; and an FF finished in the famous white and blue of John Surtees' 1964 Formula One championship-winning car.