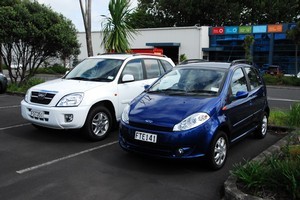 Australia's vehicle safety authority ANCAP has criticised Chinese car brand Chery over its handling of a recall to replace backrests on the front seat of its J1 small car.
The crash-test body found that "under certain operating conditions the integrity of the seat frame structure may be compromised".
Its finding led Chery to voluntarily issue a recall on the more than 740 Chery J1 cars imported into Australia and New Zealand.
The J1 scored 16.97 out of a possible 37 points in the ANCAP crash test, for three out of a maximum five stars.
But Daniel Cotterill, spokesman for Chery importer Ateco Automotive, told website GoAuto that private testing of the car fitted with redesigned backrests led the company to believe the J1 would "probably get four stars" were ANCAP to re-test it.
The Australia New Car Assessment Programme (ANCAP) chairman Lauchlan McIntosh dismissed Cotterill's comment as incorrect.
"The modifications would not impact the overall crash test result, and the Ateco engineering staff should be aware of this," he said. "The Chery J1 performed poorly in the crash tests - the passenger compartment lost structural integrity in the frontal impact test, providing limited protection from serious chest injury for the driver."
ANCAP said the J1 would not be re-tested, meaning its three-star rating will remain until at least the model's next significant revision.
Cotterill confirmed that ANCAP had written to him. "They were disappointed in my public comments, significantly that the J1 would almost certainly get a four-star rating. They stated that was simply not the case."
He said his comments were based on a test conducted at the Autoliv crash lab in Melbourne in which it "significantly improved the score for the side impact test".
Cotterill said that after the test technical people from Ateco and the crash lab commented that it was a pity the modification had not been done before the ANCAP test "because it probably would have got four stars".
"I took that information as the basis for my comment. I made the comment on the basis of the views of technical people there and in discussion with people at Ateco."