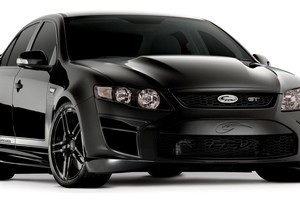 Ford Performance Vehicles' first concept car has made it into production - but only eight of the 125 limited-edition models will be available in New Zealand.
The all-black GT-based FPV concept broke cover at the Australian International Motor Show in Melbourne last month.
It was based on the FPV GT Falcon but featured a number of bespoke design treatments, most of which have made it on to the production model.
FPV general manager Rod Barrett said the concept pointed to what could be done by FPV in the future. "I'll be very interested to hear what FPV enthusiasts think," he said before the show.
"We've equipped the vehicle with the GT's 'most ticked' options, such as leather trim and reversing camera. That way, it's a reflection of what our buyers are choosing and to get people thinking.
"That's what this concept car is about - we wanted to demonstrate the possibilities, explore the future and gauge public opinion to assist us with the evolution of FPV product."
Show-goers gave the concept the thumbs-up and urged FPV to build the car. "We were totally blown away by the positive feedback," said Barrett.
"We knew we had a winner with the black paintwork and we wanted to action something immediately.
"The public spoke and we listened and I am just thrilled we have been able to put the GT Black into production so quickly.
"The GT Black is the beginning of some exciting times ahead as we continue to work on new product and design enhancements to reflect the needs and wants of the market."
FPV applied the black-on-black paintwork to just 125 units of the supercharged Boss GT. "The GT Black is available in one colour only, so there will be no confusion when it comes to placing an order for colour on this one", said Barrett.
The car is powered by a supercharged 5-litre V8 engine delivering 335kW at 5750rpm and 570Nm between 2200-5500rpm.
It is finished in Silhouette black paintwork and carries the features of the current GT range plus extras, including reverse camera and leather seating.
The one-colour styling extends to black alloy wheels, black tail pipes and matt black striping decals. The decals feature on the bonnet, rear wing and bodysides, with the black paint treatment carrying on to the front and rear bumpers and upper and lower grilles.
The fog lamp bezels have also been made black.
Inside, the all-black theme continues with black leather trim throughout, a black finish around the Interior Command Centre unit, tissue box and door spears, and a black gear shift badge on manual transmission models.
Each vehicle will come with its own unique build badge and certificate of authenticity.
Ford NZ expects to have the price of the GT Black fixed within the next two weeks. It is selling in Australia for A$74,290 ($92,550).