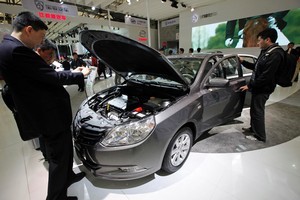 GM sales rose 8.9 per cent to 4.536 million units in the half-year ended June 30, the carmaker reported.
That compares with 4.13 million units at second-ranked Volkswagen and 3.71 million units for Toyota, including its luxury Lexus brand and affiliates Daihatsu and Hino Motors, according to statements by the companies.
Toyota's output slumped 23 per cent to 3.37 million units in the half-year after the company halted production following the magnitude-9 quake and tsunami in March.
Toyota expects production to fully recover beginning next month, one month earlier than previously announced, it said.
"Even if Toyota recovers production, it will take another few more months for sales to actually recover" as it takes time to deliver vehicles to dealers, said Takeshi Miyao, an analyst at consulting company Carnorama in Tokyo.
"Toyota's sales may trail behind Volkswagen in the full-year as well."
GM's US sales climbed to 669,065 vehicles in the second quarter, according to industry researcher Autodata Corp.
The Chevrolet Cruze was the top-selling car in the US market in June and the Chevy Silverado full-size pick-up remained the second- most popular vehicle, behind only Ford's F-Series line.
Hyundai had a 11 per cent jump in first-half deliveries of 1.96 million units.
GM emerged from bankruptcy in 2009 after a US$52 billion taxpayer-funded bailout orchestrated by the Obama administration. The US Treasury still owns 32 per cent of GM's common shares.
The company boosted its second-quarter earnings before interest and taxes by US$1 billion by pushing through higher prices on its vehicles globally.
GM's said its share of global vehicle sales rose to 12.2 per cent in the quarter, from 11.6 per cent a year earlier.
GM's quarterly profit nearly doubled in the second quarter, beating expectations.