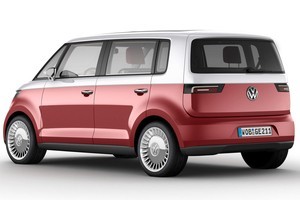 Production of the latest interpretation of the Volkswagen Kombi, the van generations of young New Zealanders used on their OE around Europe, moves a step closer when it appears at next month's Frankfurt motor show.
The Bulli was unveiled as a concept at the Geneva show in March, significantly smaller than the original Kombi and based on the micro Up! hatchback, one of a number of pint-sized concepts shown in recent years.
Now word out of Europe is that VW looks set to return to its formative roots by basing a born-again Kombi on the Up!.
The Up! hatchback itself will be unveiled at Frankfurt and is expected to go into production next year. The Bulli is one of a number of models to be based on the Up! architecture, a flexible platform the VW Group will use over coming years.
The downsized Bulli (the German name for the original Kombi) is said to offer a more affordable small wagon for booming mini-MPV markets in Europe.
It will join three- and five-door hatchback versions of the Up in an all-new baby-car family from VW and could itself develop into a range of compact VW models, including people-mover, camper, sub-Caddy van and even commercial ute derivatives.
When it revealed the Bulli concept at Geneva, VW said: "In this vehicle, Volkswagen is finishing what it started in 2001.
"Ten years ago, the vision of a new Bulli led to an unforgettable concept vehicle known as the Microbus, but some visions need to mature before they yield something new.
"Now, the time is right for this vision. That is because the concept was sharpened and the necessary sustainable technologies are now at hand.
"This concept has the potential to establish a new, fifth brand of people-carrier next to the Caddy, Touran, Sharan and its large counterpart - the Caravelle."
The six-seater Bulli should hit European showrooms some time next year and could be sold here from 2013.
Unlike the original air-cooled, rear-engined, rear-drive Kombi, the Bulli will employ the same front-engine/front-drive configuration as the Up!, with which it should also share its 1-litre three-cylinder diesel and 1.2-litre four-cylinder petrol engines.
But the production model could also offer hybrid or all-electric drivetrains, the latter via the concept's front-mounted 85kW/270Nm motor, delivering 300km on a single charge of the Bulli's 40kWh lithium-ion battery.
The Bulli rides on a 2620mm wheelbase and measures 3990mm long, 1750mm wide and 1700mm tall. It features only two rows of seats. VW claims 370 litres of luggage space behind the rear seats and a full 1600 litres with them folded, while an obligatory panoramic glass roof resides above all six occupants.
High-tech Bulli features include an infotainment system controlled via iPad, narrow dual headlights with L-shaped LED daytime running lights and turn indicators, and a sound system designed by legendary US guitar and amplifier manufacturer Fender.