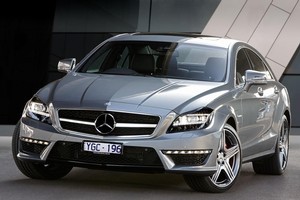 Mercedes aims to regain top spot in luxury market from BMW and Audi
Mercedes-Benz wants to regain its position as the world's best-selling and most profitable luxury carmaker.
And it has indicated it wants to challenge German rivals BMW and Audi for No1 spot. Dieter Zetsche, the CEO of Mercedes-Benz parent Daimler, has been rallying company employees.
In a letter to staff, he admits that Mercedes-Benz is being outpaced by rivals, but says: "Our competitors' success should provide us with additional motivation."
A copy of the letter was obtained by news agencies. Zetsche writes: "Some of our competitors are now growing faster and more profitably than we are.
"Granted, those are just snapshots in time and should not be overestimated. After all, many of our best new products are yet to come.
"In the long run we can't be content to be in a 'solid second' or even 'third' place: We are Daimler - we should be far ahead of the pack.
"And if that requires something that we don't currently have, then we'll identify and develop it."
In the first six months, Mercedes-Benz car sales worldwide increased 9.7 per cent to 610,531. BMW brand sales grew 17.8 per cent to 689,861, while Audi sales rose by 17.7 per cent to 652,970.
A niche model such as the second-generation four-door CLS coupe isn't going to bump up sales markedly - but it will add to the numbers game once the carmaker expands the badge to include a wagon.
Coby Duggan would like the CLS wagon for New Zealand. "If such a vehicle became available, we would certainly put our hand up," said the country's Mercedes-Benz passenger car brand manager.
The wagon was dubbed the Shooting Brake when it appeared in concept form at the 2010 Beijing motor show, its long roof and sloping tailgate chock-a-bloc with the four-door coupe's signature styling cues.
It will go into production in Germany this year but hasn't been confirmed for the Downunder market, although Australia's place high on the Mercedes-Benz list of favourite markets means its appearance on both sides of the Tasman is almost a certainty.
The Shooting Brake is built on the same modified E-Class platform as the CLS. Thus it can be expected to share the standout strength of the coupe: refinement.
A 400km run north of Melbourne in two CLS models revealed it to be one of the most refined cars on the road, suppressing road noise to the point where, on a smooth surface, the cabin almost became an isolation chamber.
The solitude was interrupted now and again by the glorious exhaust note and slingshot progress of the twin-turbocharged 5.5-litre V8 under the bonnet of the CLS63 AMG, making 386kW/700Nm - or 410kW/800Nm with the optional go-faster kit.
Four engines run across the CLS range in New Zealand. For the first time there is a diesel, the quiet and efficient 195kW/620Nm 3-litre V6 that first appeared in the E-Class sedan.
It is badged 350 CDI and sits at $162,000, the same price as the introductory petrol option, a 225kW/3.5-litre V6 with the 350 CGI moniker.
The 300kW 4.7-litre V8 carries the 500CGI badge and lists at $197,000, and the range-topping CLS 63 AMG rounds off the range at $277,000. Alastair Sloane