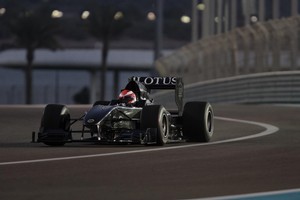 Lotus has launched what is arguably the best track-day car money can buy. And for the bargain basement price of £650,000 ($1.25 million) you can have one.
The Type 125 is, basically, a Formula One car. Its redline is calmed down to 10,000rpm from 18,500rpm, and it benefits from some aero trickery that the FIA rulebook simply won't allow.
It's powered by a Cosworth 3.5 litre V8 making 470kW (640bhp) linked to a six-speed semi-auto gearbox with paddle-shifters - and with a weight of just 560kg, its power-to-weight ratio is nearly 1000hp a tonne.
Owners won't need a full squadron of mechanics to use it, but will need at least two highly skilled spanner spinners. The engine will need rebuilding every 3000km and the gearbox will require a strip-and-check.
"It's faster than 1990 F1 cars," said Lotus driver Johnny Mowlem. "It's an absolute weapon and very, very exciting to drive ... There's nothing else that compares to it."
If you buy one, it can be bundled with Lotus' Exos Experience which includes driver education and advice on exercise to handle the three-plus G-Force numbers.