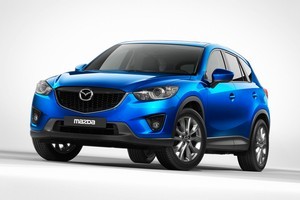 Mazda has taken the wraps off its CX-5 compact crossover, and says it will be the first car to use its SkyActiv eco technology, a mild hybrid package that claims carbon dioxide exhaust emissions of less than 120g a kilometre.
The styling is inspired by the Minagi concept shown at Geneva this year and showcases the carmaker's new Kodo "Soul of Motion" design language, first seen on the Shinari four-door coupe.
Under the bonnet is a choice of the new SkyActiv-G 2-litre petrol engine or a SkyActiv-D 2.2-litre diesel.
The diesel unit comes in two power outputs. The less powerful 130kW option claims the lowest CO2 figure, although this refers only to the front-wheel-drive version with a manual gearbox.
Among the other SkyActiv tweaks are new six-speed manual and automatic transmissions.
The CX-5's redesigned SkyActiv chassis will also underpin the next-generation Mazda6 and Mazda3, and is said to be up to 100kg lighter than existing platforms.
The CX-5 is to make its public debut at next month's Frankfurt motor show, before arriving in New Zealand early next year, where it will replace the bigger CX-7.
Mazda NZ managing director Andrew Clearwater says the new petrol and diesel engines will be 15 to 20 per cent more efficient than current powerplants.
The SkyActiv chassis and engine are part of the company's commitment to reduce its fleet average fuel consumption by 30 per cent between 2008 and 2015.
"The SkyActiv technology takes Mazda into a new generation," Clearwater said. "We believe the CX-5 will prove very popular with the New Zealand motoring public."
The CX-5 will be produced in front-wheel drive and all-wheel drive configurations, with six-speed automatic gearboxes equipped with stop-start technology for petrol and diesel units, although Mazda NZ is yet to confirm what models will be available.
"Standard" and "high" power versions of the new diesel 2.2-litre four-cylinder will be available in Europe, where Mazda is aiming for CO2 emissions of less than 120g a kilometre.
This engine, mated to a manual gearbox, is said to deliver 136kW/420Nm and 4.5l/100km, which would make it perhaps the most fuel-efficient crossover on the market.
But Mazda NZ is unlikely to bring in a CX-5 with a manual gearbox.