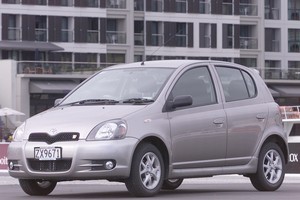 The dilemma
Juliet recently returned from London, where a great public transport network meant she didn't need a car. Back in Godzone, she's already sick of being late for work because of buses that don't come or miss the connection by 30 seconds. Time to buy a car, a small car that won't cost more than $10,000 and will provide reliable and inexpensive motoring. One friend suggested a Daihatsu Charade as a good choice, another suggested a late-model Ford Ka. What does Buyer's Guide think?
Hmm. The Ka is an interesting recommendation and we'll put it on the shortlist. Other than for its looks, the Charade doesn't do a lot for Buyer. The Toyota Echo (Yaris since 2005) is a better all-rounder.
The budget:
$10,000 tops
The shortlist
Toyota Echo
The first-generation Echo, aka Vitz and Platz as used imports, was made from 1999 to 2005 and enjoys a solid reputation. It's backed by an excellent parts and service infrastructure. Hatch versions were more successful than the sedan or coupe (which was not imported new). There's a choice of three doors or five doors, manual or auto, and a range of equipment levels. In other words, something for everyone. The prices vary hugely, but good 2004-2005 models are in the $7000 to $12,000 range.
From $7000
Ford Ka
The first-generation Ka, built from 1996 to 2008, made a strong impression when launched in New Zealand. It looked terrific, especially after gaining colour-coded bumpers in a facelift, and was an agile performer around town. Mechanically, Ka was unexciting and hardly innovative, but that means it's easy to work on. Good examples of the 1.3-litre runabout are now becoming scarce. Expect to pay about $5000 for one with 120,000 to 140,000km on the clock.
From $5000
Suzuki Ignis
A competent replacement for the earlier Swift, the 1.3 litre Ignis was quite popular back in its day and was sold with either a five-speed manual or a four-speed auto. Ignis in turn made way for today's top-selling Swift. The car was well equipped, especially in the sport version, and offered good interior room for its size. Used prices vary considerably, depending on mileage and equipment.
Popular with seniors and some Ignis examples on the market have ridiculously low mileages.
From $5000
Driven recommends
The Ka's tempting because it is different and spirited. The Ignis appeals because it offers good value and is practical, but the nod goes to Echo with its solid record and wide choice. Finding the right one might be half the fun. Good luck with finding cheap downtown parking though, Juliet.
Feedback
Buyer's Guide recommended a Toyota Previa for a large family wanting a compact seven-seater. Warkworth reader Angus, says: "I hardly think a Previa is compact. A Toyota Picnic, which comfortably seats six, would be a better bet, or even a Spacio." Fair point, but it will be a tight fit as the kids grow. And the Spacio isn't that much smaller: 500mm shorter, 103mm narrower.