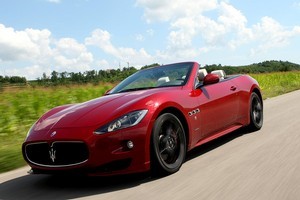 Maserati has given its drop-top buyers even more to ponder with this week's launch of a more performance-orientated take on the GranCabrio.
Launched in 2010 as Maserati's first true four-seater convertible, The GranCabrio already offers a lengthy roster of options that will sate even the most committed of individualists.
But with the introduction of the GranCabrio Sport comes a list of refinements that is likely to see many buyers paying the premium whether they're performance-minded or not.
Frankly, if your tastes and piggy bank run to $300K-plus Italian cabriolets and you have absolutely no need for a boot, the mere availability of the Sport should have almost made the decision for you.
The cosmetic enhancements include front splitters, side skirts and blacked-out grill - subtle changes that don't radically alter the stance or profile from the GranCabrio, yet give it a strong flick with the go-faster brush.
But its new exhaust note is enough to bring a tear to the eye.
The revised exhaust system, with yawning black oval rear pipes, is actuated alongside a stroppier ECU and transmission program via a "Sport" button set next to the steering wheel. This saw hugely opinionated motoring writers from around the world on common ground - it's extremely hard not to push that button.
Near Trieste, a city set against mountains on the Adriatic Sea, the echoes of these groups of journalists failing to fight the "loud button" compulsion were glaringly obvious.
The GranCabrio sounds brilliant, but the deep and bolshy aural symphony Sport unleashes is unbelievable with the accelerator mashed in to the carpet, and its barks, spits and rumble on the overrun, it is fiendishly good. And as the EU is readying restrictive new vehicle noise rules to take effect in a few years' time, it's a tune that should be heard before the "unplugged" version is released.
Maserati's engineers haven't strived to wrench every last kilowatt of power from the 4.7 litre V8 - at 331kW (450bhp), it produces an 8kW premium over its stablemate and 20Nm more torque, at 510Nm. Peak power doesn't arrive until 7000rpm, but the torque curve gets interesting from 2500rpm, delivering its maximum at 4750rpm. This has shaved a mere tenth of a second from the 0-100km/h sprint, taking it to 5.2 seconds, while top speed slightly stretches to 285km/h. This small gain comes with a loss, claims Maserati, dropping fuel consumption (and likely emissions as well) by 6 per cent to 14.5litres/100km combined.
These modest gains underline that the GranCabrio Sport is not an exercise in pure GT performance - it's still a soft-top, after all, but the driving experience has been sharpened. It wears swept-up MC Sportline parts, but is still capable of showing a bit of etiquette when required.
The award-winning six-speed auto is responsible for much of this racier experience - it shifts twice as quickly in sport mode, blips the throttle on the downshifts, will hold a gear even when you're dancing around the rev limiter, and resists kicking down a cog in manual mode.
The steering wheel-mounted paddle shifters have been extended lengthwise so that even when you've got a handful, they're within easy reach. This proved a blessing when feeling motivated, but could interrupt the reach for indicator and wiper controls. Suspension has been tuned for better performance, but again with a coat of polish as opposed to a hardcore revision. Many of the industry's "sportification" projects have resulted in kidney-bruising horrors, but the 15 per cent stiffer spring set, re-tuned shocks and 1mm-bigger swaybars still retain a compliance that you'd expect in these luxury surrounds.
Some of the roads outside Trieste were far from perfect - similarly potholed and pockmarked to many of New Zealand's poorly maintained byways. But these surface faults were easily absorbed without the expected jarring through the wheel as you braced for impact.
On a more flowing track - as Italian road-builders really seem to have a knack for - the Sport came into its own, with precise steering and positive turn-in that was not really expected from a vehicle that knocks on the door of two tonnes.
Where the cabriolet's weight was obvious was when braking heavily - despite new vented, cross-drilled and slotted rotors, courtesy of Brembo, combined with the same four-pot callipers from the GranCabrio that were jointly specced by Brembo and Maserati itself.
The braking feel wasn't as sharp as some vehicles in this bracket, but it did stop when stomped, and kept perfect balance as it did so, even on the wide licorice strips wrapping the blackened 20-inch Astro rims.
New Zealand pricing for the GranCabrio Sport is yet to be revealed - in Europe it carries roughly a €6000 ($9901) premium over the $310,000 GranCabrio, although that equation won't fly with exchange rate shifts and Godzone's geographical issues.