Likable little model claims status as New Zealand's most fuel-efficient car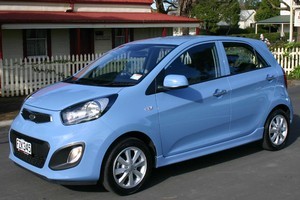 It's the smallest, least-expensive model in its range but Kia New Zealand sees the new Picanto as a halo car for its brand.
It's the first sold here to include a package of what it calls "EcoDynamics", features designed to improve efficiency and save fuel. Among these are Idle Stop-Go (ISG), which cuts the engine when stationary at traffic lights, and Alternator Management System (AMS) which stops charging the battery under a heavy load (such as uphill driving) and boosts the charge in underload conditions.
Thus equipped, the $18,590 Kia Picanto is officially New Zealand's most economical petrol-powered car with a combined fuel-consumption figure of just 4.3 litres per 100km and C02 emissions right on the magic 100g/km.
Impressive, but there's one problem: the car with the trick ISG technology and headline fuel economy is the Picanto manual, a model which almost nobody will buy.
Small cars with three-pedal transmissions are a rarity in New Zealand - especially among Kia's Picanto customers, who it says are predominantly female, aged 40-70 - and skewed heavily towards private purchasers.
Why bother with a car hardly anybody will want? "The Picanto manual is very important to us because it reflects the direction Kia is going in with its EcoDynamics technology," says the brand's New Zealand general manager, Todd McDonald.
Kia has automatic-transmission ISG technology in development and is expected to front up with production models within a year. Until then, mainstream Picanto buyers will have to be content with a conventional four-speed automatic, available in both entry LX and flagship EX specifications.
They have exactly the same 1.2-litre engine as the ISG model, making 64kW/123Nm, and a bit more standard specification. But they are thirstier, at least in relative terms, with 5.3 litres/100km for the LX and 5.6 litres/100km for the EX. Hardly guzzlers but still an extra litre of precious petrol over the ISG for every 100km you drive.
The LX automatic is just $400 more expensive than the ISG manual but adds Bluetooth connectivity, an extra two speakers for the iPod-integrated/MP3 audio system and a leather-bound steering wheel with remote stereo controls.
Step up to EX and you spend another $2000 but gain 15-inch alloys, a driver's knee airbag, reversing sensors, LED-type daytime running lights, higher-grade cloth trim, yet more stereo speakers and automatic headlights.
The city-car segment is tiny in New Zealand, if you'll excuse the pun, with total sales of about 900 cars per year.
Picanto certainly offers something in terms of style and build quality - it's a car made down to a price, with hard plastics and parts-bin switchgear, but it's well screwed together and ergonomically sound.
The 1.2-litre engine is eager, even though the power delivery is somewhat throttled by the four-speed automatic gearbox. But nobody expects a $20,000 city car to be a scintillating drive.
It's roomy for a city car, too: the wheelbase measurement of 2385mm is longer than anything in the class.
Bootspace is modest at just more than 200 litres. Not that Picanto is trying to be supermini-sized: it might have a large cabin but the narrow proportions place it squarely in the teeny-tiny-car segment.
Picanto is not sold in Australia so our cars are essentially European specification (hence the left-side indicator stalks).
First impressions are of a likeable, well-equipped city car with a pleasing sense of style. Although Kia's attempt at putting its signature "tiger nose" grille shape into the Picanto's two-spoke steering-wheel design has resulted in something that looks like a toothless old man grinning. Not so sure about that.