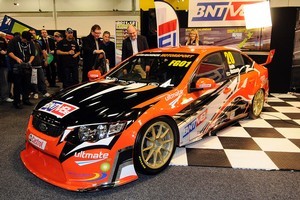 About a year ago I wrote about how V8 racing in New Zealand was heading backwards and about to mimic the bad old days of American motor racing when they had their ChampCar v IndyCar debacle.
Wise heads decided that wasn't a good idea and a waste of money where fans didn't know who was doing what. You'd think the movers and shakers of V8 motor racing in New Zealand would have noticed how much bigger and better IndyCar is now that there is just one series. But after announcing there would be no breakaway series last year, it's all on again.
We've all known that there would be a non-championship series featuring the new V8SuperTourer class and that the NZV8 national championship would continue with a new car recently unveiled at the Speedshow. However, two things irk me about the recent wrangle. The first is over who owns the intellectual property (IP) of the V8SuperTourer car.
I want to make it clear that I don't have an opinion on either camp. They're both about as dysfunctional as each other if they think New Zealand, with a population of just over four million, can bankroll two V8 series.
The CART/ChampCar/Indycar split just about destroyed single-seater racing in America and it was only because the US is so big that the various series managed to lurch from season to season.
The other problem is lawyers are now involved and I can easily imagine, by the time the dust settles, enough money will have been bunced on new cars and swimming pools for the legal eagles, to have built a couple of cars for both series.
Motorsport is supposed to be about racing, but it always ends up, and not just in New Zealand, in a weeing contest between egos. The silence radiating out of MotorSport New Zealand is a little disquieting, but then again I might be doing them a disservice and the president and general manger are hopefully banging a few heads together behind closed doors.
The heart of the problem appears to have started over disparate ideals on how the V8 championship should be run with each camp blaming the other for not promoting the sport. The two factions - NZV8s Vee Eight Entrances Group Association (Veega) and MotorSport NZ promotor, the Motorsport Company - were at each other's throats about profit sharing and self-interest. Just as that problem appeared to have been solved, a breakaway group, V8SuperTourers made up of some former Veega members, decided they would indeed march to their own tune and create a new series with a new car. At the heart of the recent spat that almost saw the V8SuperTourer car not being exhibited at the Speedshow, is who owns the IP for the car, and rumours of internal wrangling in the group running the new series.
As a monster fan of motorsport, I often shake my head in dismay and disappointment that in such a small country with limited resources, especially in these harsh commercial times, anyone would even want to contemplate a split.
At one stage it did all appear to have been sorted out and a couple of the grownups had told the squabbling children to pull their heads in and put the toys back in the pram. Not so, and from what I can gather it's only going to get worse. This will only serve to reiterate the already widely held belief of the dysfunctionality within New Zealand motorsport.
Over the past few years the V8 championship has struggled to fill its grids and at one point had to drop the development series due to lack of interest. What on earth do the principals in this recent wrangle think is going to happen if the sport is split down the middle? The fan base is already pretty low so why in the good lord's name would you want to split them?
Motor racing is an expensive pastime and exposure for sponsors is limited at the best of times. What the two parties fail to realise is the long-term damage that will happen with a split. Sponsors, rather than backing the sport, will put it in the too-hard-basket and take their money elsewhere. The 12-hour endurance race at Taupo was cancelled due to lack of interest, the Formula Ford category is struggling for numbers, as are other classes, and the V8s want a split series.
To the warring factions, may I suggest that you have the sport at the heart of the issue - not your back pockets - and pick one series.
I wrote last year, after having being told by a number of folk on both sides of the fence, that the initial problems had all been sorted out.
"I'm really pleased they've sorted it out," said the president of Motorsport NZ Shayne Harris in July last year. "What we [MNZ] wanted was one championship and it's very pleasing that both parties are working towards that. We certainly didn't want a diversion in the series and the value of common sense has come to the front."
I went on to say now that all hair pulling and finger pointing was sorted out and there was a two-year contract in place with TV3, let's hope the country can go racing and not bitching.
Apparently not ...