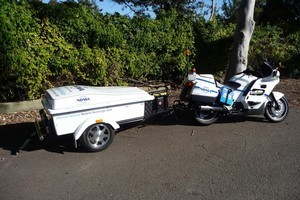 Australian motoring club the NRMA has been trialling its first mobile charging unit for electric vehicles, gearing up for the day when the first EV driver runs out of power.
The roadside assistance unit consists of a small Honda petrol generator and a modified home wall charging unit packed into a trailer behind a motorcycle.
It can give a typical EV, such as a Mitsubishi i-MiEV or Nissan Leaf, enough charge in 30 to 40 minutes at 15 amps to get the car about 10km and to the nearest permanent charging point for a full charge.
Developed by Australian-based international battery swap company Club Assist and destined to be rolled out around the world to up to 70 motoring organisations, the mobile charger can also ramp up the charge from 15 amps to 30 amps, should the vehicle be capable of accepting the higher rate, to halve the charging time to as little as 15 minutes.
Club Assist is working on an even faster and more powerful mobile unit to cut the turnaround time to less than 10 minutes, says Australian website GoAuto.
The service has been likened to a roadside assistance technician giving a stranded motorist a splash of petrol to reach the nearest service station. Until now, the only alternative has been to call a tow truck.
The NRMA is also preparing to open its first public kerbside fast-charging point for EVs, at the organisation's operations centre at North Strathfield, in Sydney's inner west, where drivers can "fill up" for free.
The fast charger - a high-voltage unit from American company Acker Wade and installed by Club Assist - is only the second in Australia after a similar device at Mitsubishi Motors' HQ in Adelaide.
The mobile charging unit has been under development since last year. The unit, dubbed Electric Vehicle Supply Equipment (EVSE), will be rolled out across the United States, Canada and Australia in the next few months.
Next week, the American Automobile Association (AAA) - which has 52 million members - is set to unveil the unit at the Plug-In 2011 Conference and Exposition in Raleigh, North Carolina.
The portable EVSE provides up to 5.5kW of power from the petrol generator. In future, Club Assist hopes to employ DC/DC fast charging from lithium-ion batteries through the CHAdeMO ('charge de move') protocol developed by a Japanese consortium headed by the Tokyo Electric Power Company in league with Toyota, Nissan, Mitsubishi and Subaru.