This new lifestyle vehicle is just what the company needs, writes Alastair Sloane.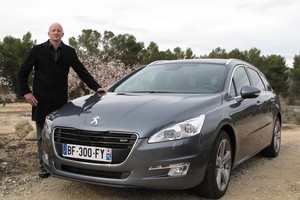 Peugeot will launch its four-wheel-drive diesel-electric 508 station wagon in New Zealand next year, a lifestyle carry-all it says is a "match made in heaven".
"When you consider those thousands of Kiwis who love the great outdoors, this vehicle is positioned perfectly to suit that buyer profile," said Peugeot NZ divisional manager Simon Rose.
"Given the range of this vehicle, stopping for fuel or chains on the way to the mountain, for that matter, will be a thing of the past.
"Getting a hybrid diesel four-wheel-drive station is a match made in heaven. Our South Island dealer rang shouting when he knew the RXH was coming. 'This is the car the brand has been waiting for', he said."
The 508 RXH gets its power from Peugeot's unique HYbrid4 set-up, which uses a 120kW 2-litre diesel engine to drive the front wheels and a 28kW electric motor to move those at the rear. Maximum torque is 450Nm.
This system features in the 3008 crossover, where Peugeot says it can deliver town-and-around fuel economy of 3.7 litres/100km (74.4mpg) and 99gr/km of CO2.
As well as its high-tech powertrain, the RXH gets jacked-up suspension and off-road styling to stand out from versions with more conventional drivetrains.
It is a product of the powertrain-sharing agreement the PSA Peugeot Citroen group has with BMW. The 50:50 equity joint venture, called BMW Peugeot Citroen Electrification, will provide both companies with economy of scale benefits while they develop and produce components for hybrid drivetrains including battery packs, electric motors, generators, power electronics, chargers and related software.
The project's aim, besides developing standard bits and pieces for future BMW and PSA hybrid vehicles, is to develop an open European platform for the technology, where both companies could sell it to other carmakers.
The HYbrid4 system will feature only in the 508 SW - it's too big to fit in the 508 sedan. Peugeot will share the diesel-electric set-up with future DS4 and DS5 models from Citroen.
Further down the line, however, the next-generation HYbrid4 system will be more compact. The nickel-metal hydride batteries will be replaced by lithium-ion cells. This will allow Peugeot to fit the system to more of its smaller cars in future.
The technology is part of a new chapter in the Peugeot story. At its centre is a "mobility" strategy covering the development of all sorts of Peugeot vehicles.
Rose expects the 508 RXH to arrive late in 2012. "Expanding into hybrid four-wheel-drive diesel models fits with our local product strategy of having one key vehicle in each segment of the market," he said. "We are not in this market now and therefore will be missing incremental retail opportunities. Hybrid sales in New Zealand are still in their infancy, one could say, at the tipping point of becoming trendy."