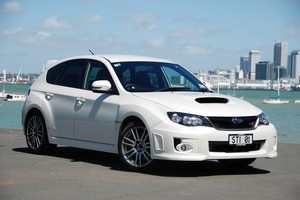 Formula One fans will never drive an F1 racer, and even rabid V8 Supercar nuts know the vehicles they admire aren't the same as those they buy.
But production rally cars really are similar to showroom models, which is why Mitsubishi's Evo and Subaru's WRX appeal so strongly to petrolheads.
Trouble is, performance suspension crashes over real-world bumps and racey engines drink like dipsomaniacs. That gets wearing on the daily commute, especially for your passengers.
So thank goodness for modern engineering which injects a whiff of compliance to sporting suspensions, develops engines that guzzle only when thrashed and introduces auto transmissions for sports applications.
Yep, that's right, this WRX STI has a gridlock-friendly auto, a five-speed sibling to its six-speed manual stablemate.
It's linked to the same 2.5-litre turbo-charged boxer engine as the manual, albeit detuned, to deliver 57Nm less torque with the peak available across a broader range of revs.
It also gets Subaru's SI drive to let you choose normal, sport and sport-sharp driving modes.
Select sharp and acceleration arrives with plenty of aural drama to mask this car's more relaxed performance. Its six-second 0-100km/h time is slower than the manual by 0.8 seconds and matches the "ordinary'' WRX's sprint time.
The manual wins another way ,too - it gets a driver-controlled centre diff to tune fore-aft power delivery to suit the surface you're driving. So it's boring to drive, then? Er, no. An aggressive approach reveals plenty of power, with a whiff of rear-bias delivery.
There's more than enough grip, very little body roll and the sort of nimble handling that encourages you to make the most of the engine - combined with surprisingly effective damping that imparts a ride just compliant enough for the commute.
The car looks the part, too, with its slightly lower stance emphasised by the flaring wheel arches, gaping bonnet nostril, assertive boot wing and four-muzzle muffler array.
But point this car at the sort of tarmac tangle it's designed for and the auto lets you down.
It needs another cog, and if the revs aren't quite right it won't let you change - you have to over-brake into a corner to select the best gear hauling out. Get used to it and you may decide the compromise is worth it for its ease of use round town. But if you want the full monty you need the STI manual. If you don't, buy the WRX manual that matches this $61,490 car's acceleration and costs $15,500 less.
Subaru Impreza WRX STI auto
We like
SI drive delivers frugal or feral drive modes
We don't like
Auto needs a sixth gear

ON SPEC
Powertrain
2457cc turbo charged four, 221kW at 6200rpm and 350Nm at 3000-4000rpm, five speed auto drives all four wheels
Performance
0-100km/h in six seconds, 10.6l/100km
Safety
Six airbags, ABS, stability and traction control
What it's got
Sports seats, cruise control, climate control air, multi info display, 10-speaker audio with USB and aux, 18-inch alloys
Vital stats
4415mm long, 301/742-litre boot, 60-litre tank