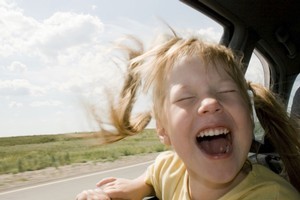 The school holidays start next weekend, so if you are planning on heading out of town for the break, then here are some survival tips for your drive.
Whether you are planning a day trip or an eight-hour drive to visit the rellies, it pays to think ahead.
In summer, you have to worry about the kids and the car overheating, but in winter you need to be equally prepared.
Before you hit the road, pack some year-round essentials: sick bags; a face cloth in a ziplock bag, water bottles, and plenty of snacks for all occupants - you don't want to hit Taumarunui at lunch time and find they've run out of pies!
In winter, don't forget blankets and pillows for the kids, jackets for everyone, and plastic bags for dirty shoes.
Make sure your cellphone is charged and has enough credit.
Check the weather before you leave and make sure you know the forecast for the next few days - you don't want to be stuck in a storm on the side of the road, or have to cope with flooding.
Just before you pull out of the drive, go onto the Automobile Association's website (www.aa.co.nz) and check out the roadwatch page for any incidents, and traffic on the motorways.
Car care
Preparation is important before you start a long car journey, to reduce the risk of breaking down in an isolated or poorly-serviced area:
* Make certain the car is in good repair and serviced, and the fuel tank is full of petrol.
* Keep a check on the air pressure of the tyres and the condition of the spare tyre.
* Have a map or GPS system with you, and know your route at night to avoid becoming lost, or having to stop to ask directions.
* Carry a torch in the car.
* Keep a pen and paper in the car. If you have to leave it for any reason, you may want to leave a message behind.
* If you are travelling alone or on an unknown journey, it may be an idea to tell someone of your plans and expected arrival time.
* If you are making a long trip, invest in individual DVD players for the kids ... I still have horror flashbacks about a campervan trip around the South Island when my daughter was a toddler and the only way to stop her screaming was by listening to a Barney (the purple dinosaur) tape - non-stop.
On the road
* Try to allow enough time for rest stops. Two hours of driving time, then a break, makes a good pattern for car travel with young children. "Rush" is a four-letter word.
* Be patient, it is better to get there late than never.
* If you are driving slowly or towing a trailer or caravan, pull over and let following traffic pass, especially if a queue is forming behind you.
* If you have to stop (for lunch, a break or a toilet stop) do it in a safe place, clear of the traffic lanes, preferably in a lay-by or parking area.
* Before leaving your car, make sure it is safe and secure. Check the headlights are off, valuable personal items are hidden from view or locked away from opportunist thieves, the car is safely parked.