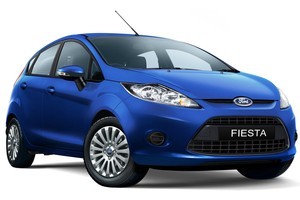 Turning up at a hairy-chested motoring event in the tiny diesel Ford Fiesta LX, resplendent in an urbane deep wine colour, I was met with the type of reception you'd expect wearing a skirt into Alasdair Thompson's office.
But I found myself seriously defending this diesel-powered shopping basket - "It's got a stunning chassis", "best-handling small Ford" and several others were added to the obvious "cost as much to drive here as you guys spent on pies before you'd even left Auckland".
Not surprisingly, this 1.6-litre DV6 diesel is a penny-pinching performer. The magic catalogue numbers put its combined fuel consumption at 4.4 litres/100km, but in the real world (one with lots of hills and traffic) it settled at 4.9 after a week of widely varied driving.
The new model Fiesta is essentially a facelift of last year's model, which had grown up considerably from its predecessor as Ford's World Rally Championship ambitions for the car saw a lot of refinement in a short time.
After driving the 2010 machine, the most striking thing was how tight the new chassis was, and the 2011 Fiesta is the same - it feels impressively positive under most conditions.
The 1600cc might not sound like much, and it does only produce 66kW - but there's 200Nm of torque with that, nearly 25 per cent more than its petrol-powered Zetec stablemate.
It is only available in a five-speed manual form and, although it doesn't rev like the petrol versions, once you're used to the early changes that the flat torque curve allows it's easy to crack along at a good pace.
The one glaring problem with taking this city-focused car on the highway is the wind noise from the wide wing mirrors, and when you wind the window down at 100km/h it's like sharing a bus stop with rocker Keith Moon.
On the power-sapping hills of the Coromandel the Fiesta proved that, while there was a time when sticking a diesel in a car as small as this would be deemed insane, a modern engine in a car like this can give a surprisingly rewarding drive.
It's pretty fun, especially with such a tight and friendly five-speed and even without the "sports" suspension package fitted to the Zetec. It does sit on 55-profile 15-inch 185 tyres, which helps, and the only time it gets scary is pulling up fast from speed, when it's size counts against stability.
Safety features abound, with the expected ABS and traction control, but adding electronic brake force distribution and dynamic stability control. There's a full complement of airbags - including one to protect the driver's knees. Exterior styling is quietly cool, and the interior has the features we all know and love - Bluetooth that doesn't require a degree to pair your phone with and iPod-friendliness.
Does the Fiesta LX Diesel - at $26,990 (plus on-roads) stack up as a potential purchase? The Zetec is more rev-happy and a grand cheaper, but drinks more gas; the diesel is cheap to run and, while it still sounds like a diesel, it doesn't feel industrial.
Drive both, but don't discount the long-term benefits of getting 100km on less than a tenner.